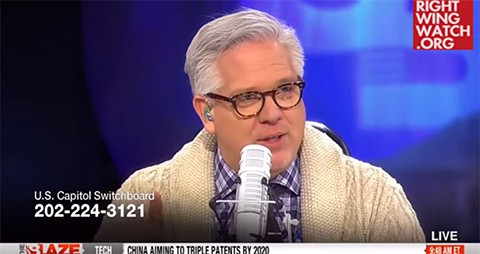 Bastion of enlightened thinking Glenn Beck is urging Republicans to call on their members of Congress to vote for Rep. Louie Gohmert as Speaker of the House now that Gohmert has announced he is challenging Rep. John Boehner for his party's top leadership post in the House of Representatives reports Right Wing Watch:
"Louie is not going to compromise, Louie is the guy. We have another chance, America, we have another chance. Please don't pass this signpost, please, there's another exit, take it," Beck said on his show today, adding that conservatives should consider themselves "done with the Republican Party" if Boehner secures re-election.
"Shut the switchboard down, tell everybody you know in the freedom movement, 'Louie Gohmert.' Call them now," he said.
You may recall Gohmert's previous remarks comparing gay rights advocates to Nazis as well as his concern about gay massages in the military that notably (and hilariously) landed him in the cross-hares of comedian Stephen Colbert.
Watch Beck advocate for Gohmert, AFTER THE JUMP…