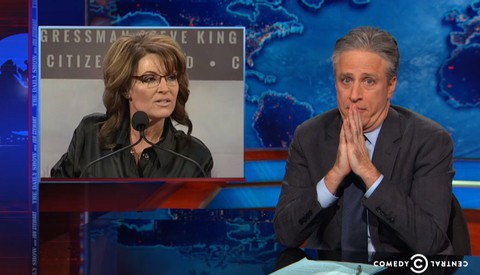 Jon Stewart took a look at Rep. Steve King's Iowa wingnut summit which took place over the weekend. The summit attracted such conservative names as Scott Walker, Chris Christie, Ben Carson, Donald Trump, Rick Perry, and Ted Cruz, who showed he was meant to be there by exclaiming to the crowd:
"Hoo Diddly, I'm conservative!"
Mike Huckabee was, apparently, hungry:
"There are two things you should never see. You should never see a law or a sausage made. I have seen both. And I still eat sausage. If you're gonna have some sausage you gotta kill some pigs. And folks there are a lot of people in America who want the sausage they just don't want to kill the pigs. We need to do some pig killing — to get to the sausage."
And Sarah Palin was the conference's true star. If you haven't already seen her speech, it's something to behold.
Said Stewart:
"You know, that's the kind of talk you hear right before the pharmacist says 'ma'am you've gotta leave the Walgreens.'
Watch Stewart go to town, AFTER THE JUMP…