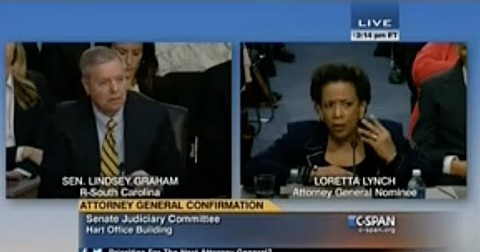 Hearings are underway in the Senate Judiciary Committee for U.S. Attorney General Nominee Loretta Lynch, whom Obama nominated as a replacement for departing Attorney General Eric Holder.
This morning Lynch was confronted by a question from Senator Lindsey Graham (R-SC), who demanded to have her thoughts on the legal difference between gay marriage and polygamy, Mediaite reports.
Asked Graham:
"Same-sex marriage. This may go to the Supreme Court very soon. If the Supreme Court rules that same-sex marriage bans are unconstitutional, it violates the constitution for a state to try to limit marriage between a man and a woman, that's clearly the law of the land unless there's a constitutional amendment to change it.
What legal rationale will be in play that would prohibit polygamy? What's the legal difference between a ban on same-sex marriage being unconstitutional but a ban on polygamy being constitutional? Could you try to articulate how one could be banned under the constitution and the other not?"
Replied Lynch:
"Well, senator, I have not been involved in the argument or analysis of the cases that have gone before the Supreme Court. So…and I'm not comfortable undertaking legal analysis without having had the ability to undertake a review of the relevant facts and the precedent there. So I certainly would not be able to provide you with that analysis at this point in time, but I look forward to continuing the discussions with you."
Watch, AFTER THE JUMP…