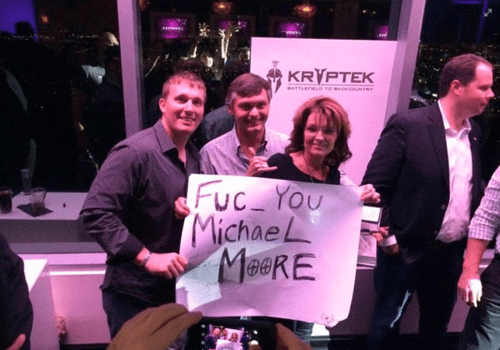 (via Facebook)
Last week Sarah Palin made a series of appearances at the 2015 Las Vegas Shot Show, an annual trade expo for the "shooting, hunting, [and] outdoor" set. The former Governor of Alaska stopped to take photos with a group of supporters while holding a sign, which she signed, with a choice message for Michael Moore.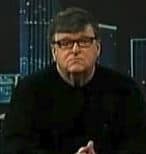 The sign, which features a pair of stylized crosshairs in place for the 'o's in Moore's name, is thought to be in response to Moore's recent response to Clint Eastwood's controversial film American Sniper.

"My uncle [was] killed by sniper in WW2," the filmmaker tweeted. "We were taught snipers were cowards. Will shoot you in the back. Snipers aren't heroes. And invaders are worse."
Moore's statements drew swift backlash from other celebrities like Kid Rock and news outlets like Fox News. Never one to back down from confrontation, Moore took to Facebook to list his numerous efforts to reach out to the veteran community.
"Here's the truth they can't or won't report: I'M the one who has supported these troops – much more than the bloviators on Fox News, the post reads. "I guarantee you, you've never heard any of this reported about what the real me does because, frankly, it messes up their little story of the fictional "Michael Moore" they've created for your hate and enjoyment."
On Saturday, Sarah Palin mentioned the Michael Moore poster in her rambling, bizarre speech at the Iowa Freedom Summit that led to the DNC issuing a short statment telling Palin "Thank you!". You can watch Palin's 35 minute word salad, AFTER THE JUMP…