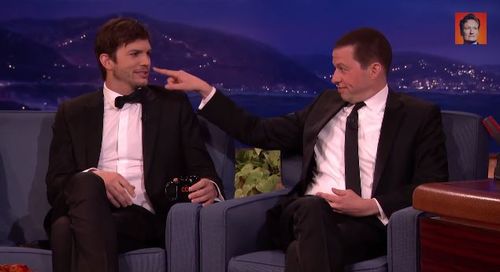 Ahead of the Two and a Half Men series finale last night, Jon Cryer and Ashton Kutcher stopped by Conan this week to discuss, among other things, the many times the two leading men locked lips on the show.
While Cryer was quite pleased with his on-screen ex-hubby, calling Kutcher an "excellent kisser," Kutcher seemed less turned on by the man-on-man action.
Said Kutcher:
"Here's the thing. If you want to know if you're not gay, kiss a dude. Because if you feel nothing, you know. And while Jon is a wonderful human, there was nothing. And it's weird because he had a little stubble and now I understand the issue with stubble. It's a little scratchy and itchy." 
Watch, AFTER THE JUMP…