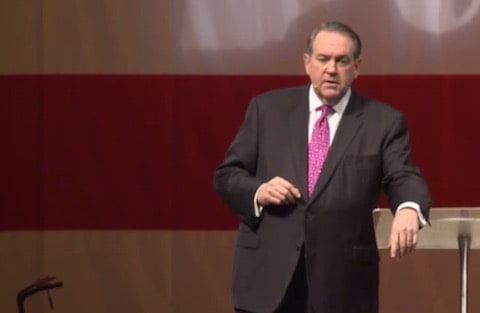 For being such a devout Christian, Mike Huckabee isn't on very firm ground with the commandment against lying. In a public speaking appearance, Huckabee gets riled up about how people who speak "too freely" and come from the "perspective of faith" are accused of hate speech…conveniently leaving out that the people who are accused of hate speech typically aren't simple god-fearing devout followers of the Bible being condemned for their faith, but rather are nasty people spewing, well, hate.
Continuing the story of maligned religious groups, the "craziest thing" he's ever heard is how some of the Christian groups he knows are actually labeled as hate groups. He doesn't name names, conspicuously enough, but some educated guesses can be made. Contrary to Huckabee's lie that they were labeled hate groups because "they said something someone disagreed with", they're actually labeled hate groups because:
Huckabee then goes full-Godwin by comparing the evil of the Nazis in the Holocaust who rounded up and exterminated legions of Jews for their faith by lying to them to the "lie" that the definition of marriage can include same-sex couples and the government is destroying businesses because of the faith of their owners.
As long as we're playing the "Let's cynically invoke Nazis to make people look horrible" game, how about this: the Nazis were huge supporters of animal rights and conservation. Mike Huckabee's son, David, brutally tortured and slaughtered a stray dog by hanging it, stoning it, and slitting its throat, and Mike Huckabee tried to squash the story. So….David and Mike Huckabee are worse than Nazis, right?
Huckabee has always been a piece of work, but these latest videos are beyond the pale, even for him. You can watch them, being fully forewarned that they are rage-inducing, AFTER THE JUMP…