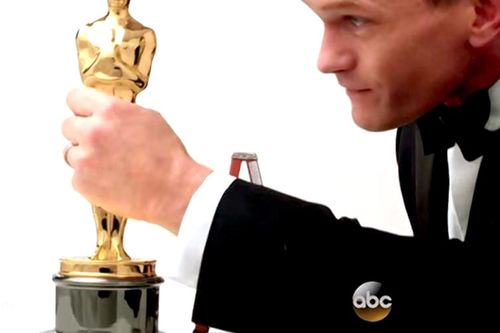 Oscar & Neil. They're always in demand.
Hollywood's High Holy Night is nearly upon us. We're just two away from all the gold, glamour, grins, grimaces (hidden under aforementioned grins) and gowns. Neil Patrick Harris, who's been steadily ascending the awards show mountain will finally reach its peak to host the 87th Academy Awards this Sunday. To make sure you're prepared for your office pool and your parties, here is a quick rundown of what to expect.
PERFORMANCES
Because NPH is a triple threat and because the producers of the ceremony are also partially to blame for the resurgence of the modern movie musical, expect lots of song & dance. The Best Original Song contenders will be performed by Adam Levine ("Lost Stars" from Begin Again), Rita Ora ("Grateful" from Beyond the Lights), Common and John Legend ("Glory" from Selma), Tim McGraw ("Not Going to Miss You" from Glenn Campbell: I'll Be Me) and Tegan and Sara ("Everything is Awesome" from The LEGO Movie).
Other performers scheduled are Jack Black, Anna Kendrick, and Jennifer Hudson though we don't know what they'll be performing. They always try to keep some secrets but one prevailing rumor is that there will be a tribute to The Sound of Music (1965) which hits its 50th anniversary the week after the Oscars. Presenters include last year's acting quartet Blanchett, Leto, McConaughey, and Nyong'o as well as "sorry we didn't nominate you and we realize you had a good year" people like Chris Pratt and Jennifer Aniston.
PREDICTIONS, AFTER THE JUMP…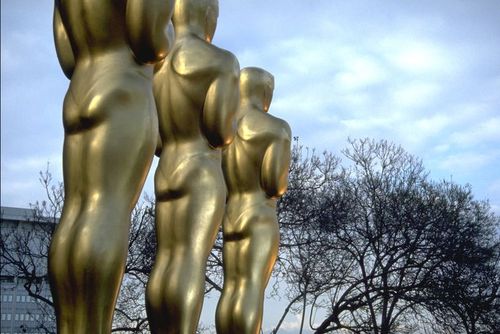 do you think Oscar wishes he had more of a bubble butt?
Oscar has 24 categories announced in ceremony and just as many montages for some reason which is why the show always runs over time. Each year you'll see a million articles on how to fix the Oscars and they'll nearly always mention handing some of those 24 prizes out before the show (like the Grammys which have 10,000 categories but seem to give out just like 5 or 6 trophies during their epic endurance test of performances) but these are nearly always terrible ideas.
The Oscars wouldn't be the Oscars without the crazy length and all the "who is that?" rubber necking and "what is that costume designer wearing?!?" curiosity factor. And who wants to go without the clips and the teary breakdowns that push well past the mere 45 seconds of allotted acceptance speech time? Not I. And not anybody I know that looks forward to the Oscars all year long.
PREDICTION TIME!


 THE SHORTS
Not everyone cares about these categories but if you're interested here's a breakdown of Animated Shorts, Live Action Shorts, and Documentary Shorts. The only one of these that's been widely seen is Disney's Feast an adorable if slight trip through a man's love life from the perspective of his ever-hungry puppy Winston. Because people have actually seen it they think it will win but it's never that simple with these categories. 


 DOCUMENTARY FEATURE
Netflix has been pushing their Eastern Congo doc Virunga (now streaming) very hard and Finding Vivian Maier about a mysterious photographer has an emotional hook that a lot of people can't resist so either could surprise. Another photography doc Salt of the Earth and The Last Days of Vietnam have fans but the safest bet is the Edward Snowden doc Citizen Four since it's the film with abundant precursor prizes. 


 ANIMATED FEATURE
A tough call. My two favorites, the divisive grotesque The Boxtrolls and the Irish fable Song of the Sea which are both visually amazing, are unlikely to win. Barring a surprise from the expressively hand drawn The Tale of Princess Kaguya from Japan's legendary Studio Ghibli the contest is between two American hits. Big Hero 6 is well liked but in this tossup I'm guessing How To Train Your Dragon 2 which has more history – its predecessor would have won the category in most years but it was up against Toy Story 3.


 SOUND EDITING & SOUND MIXING
Few people know the difference between these two categories (including Academy members) but it goes like so: Sound Editing is the creation of aural elements (dialogue, score, effects) while mixing is how all those sounds intermingle so that you can hear dialogue and the score can swell at just the right time and so on. If you're betting on the Oscars this is the safe place to expect American Sniper to win its "your box office is just incredible!" industry thank you. But I'm going out on a limb to suggest it only wins Sound Editing with Whiplash taking Mixing for those crazy jazz drums. Disclaimer: Birdman is also a real threat in both categories.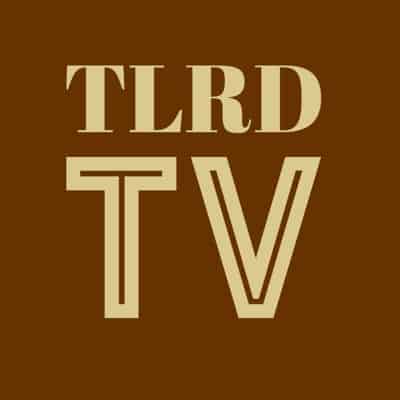 ORIGINAL SONG
Early in the year this looked like an easy get for the essential "Lost Stars" from Begin Again but the Weinstein Co. didn't really push that movie and enthusiasm faded. My guess is that the rousing "Glory" (which is tremendously moving to hear live) wins Selma its only Oscar. 


 ORIGINAL SCORE
French composer Alexandre Desplat is the new John Williams in that he's nominated every year and sometimes twice over. Unlike John Williams he hasn't won the gold yet but he's got two shots at it this time with The Imitation Game and The Grand Budapest Hotel. I suspect they'll both lose to The Theory of Everything, the film with the most prominent score. Why? Well MOST often equals BEST in Oscar land. Plus it's pretty. That's my reasoning. Now watch it be Hans Zimmer's Interstellar that wins.


 FILM EDITING
Common wisdom is that this prize is crucial for a Best Picture win. No film has won Best Picture without an Editing nomination since Ordinary People (1980). This is the statistic most often cited in Brokeback Mountain's (2005) hateful loss. But common wisdom is not always correct. I don't think it matters that Birdman isn't nominated here since it appears to have no editing (it does, the cuts are just hidden) and it could still win Picture. This statue seems likely to go to Boyhood from sheer tenaciousness – imagine working on the same project for 12 years — but I'm taking a chance and betting that Whiplash, which wouldn't work at all without its razor sharp cutting, surprises. 


 PRODUCTION DESIGN & COSTUME DESIGN
Both are Grand Budapest Hotel's to lose. The hotel looks like a tiered cake and every single set is delicious looking… even the ones that aren't pastry shops. THIS HAS TO WIN. If it loses to Into the Woods' unimpressive sound stages (not that musical's strongest element in anyway) I will be beet red furious.
As for the costumes. Budapest's legendary italian designer Milena Canonero has won Oscar gold in the 1970s (Barry Lyndon), 1980s (Chariots of Fire), and 2000s (Marie Antoinette), so this would basically make her the Cher of the Oscars with hits in nearly every decade! Still, her competition is fierce. Oscar voters are obsessed with Colleen Atwood who costumed Into the Woods and it might not bother them that she's basically just repeating herself for the fairy tale musical and they might forgive her for that awful Johnny Depp wolf costume because — well, it's Johnny Depp. What are you going to do?  


 CINEMATOGRAPHY
One of the strongest lineups in any category you'll ever see. Barring a sentimental surprise for Roger Deakins (Unbroken) who has never won despite 12 nominations the safe bet is that Mexican DP Emmanuel "Chivo" Lubezki (his Instagram account is a must-follow) wins his second consecutive statue for Birdman, beating the painterly wonders of Mr Turner, the stark black and white beauty Ida, and the nimble Grand Budapest Hotel.

 MAKEUP AND HAIRSTYLING
Basically if Tilda Swinton is in your movie, your hair and makeup team are going to feel über inspired (think Orlando, Julia, Chronicles of Narnia, Only Lovers Left Alive, Snowpiercer, etc) so she should be Grand Budapest Hotel's good luck charm to win this one. Unless of course the Academy just really love Steve Carell's new nose, Channing Tatum's cauliflower ear and Mark Ruffalo's bald spot in Foxcatcher or feel the need to hand the monster hit Guardians of the Galaxy a statue. 


 VISUAL EFFECTS
This category is just never this competitive. The Captain America and X-Men franchises received their first nominations but the contest is a threeway: It's the motion capture breakthroughs of Dawn of the Planet of the Apes, vs that talking tree and raccoon from Guardians of the Galaxy, and Chris Nolan's ambitious sci-fi spectacle Interstellar. Eenie meenie minie mo… Interstellar ??? 


 ADAPTED SCREENPLAY
God only knows what Oscar voters were thinking to ignore the deeply moving Wild and the funny and thrilling Gone Girl in this category (they just REALLY don't like films about women, do they?) but since they did ignore them this Oscar contest comes down to Whiplash vs The Imitation Game. Consider this The Imitation Game's consolation prize since it's unlikely to win anything else.


 ORIGINAL SCREENPLAY 
A true Best Picture showdown. There's only been a few ties in Oscar history but this seems like such a nail biter that a tie might be the only way to solve it. While Boyhood didn't really have a working screenplay that might not stop Oscar from rewarding it here if they pick it for Best Picture but I suspect this is going to either Birdman or Grand Budapest Hotel. I keep changing my mind. Grand Budapest makes the most sense from a purely 'what they usually reward' perspective — this being one of the only categories with a love of quirk and tee — so if Birdman ekes this out, I think it's taking Best Picture.


 SUPPORTING ACTOR
J.K. Simmons is a mortal lock for his homophobic perpetually unpleasant music professor in Whiplash. But if you ask me Edward Norton should be taking this in a walk for his incredibly funny self satire as an egotistical difficult and revered thespian in Birdman. Mark Ruffalo in Foxcatcher and Ethan Hawke in Boyhood are also really special so it's a damn good category. Let's just pretend Robert Duvall for The Judge isn't here because it's the single worst movie nominated for anything. Christ, that was a Razzie worthy stinker. 


 SUPPORTING ACTRESS
Patricia Arquette has this locked up for her 12 year performance as Boyhood's sympathetic long suffering mom who keeps picking the wrong guy to marry. Emma Stone (Birdman) and Keira Knightley (The Imitation Game), both excellent, will have other chances since they're young and talented. As for Laura Dern (Wild) and Meryl Streep (Into the Woods) the nomination was the award. I know it's an unpopular opinion in the gay community but I really think Meryl Streep and Oscar need a little time apart. That is some messy codependent shit at this point. Just two years off would totally make the sex hot again.


 ACTOR
Barring a weird Bradley Cooper 'third time's the charm' upset for his upsetting but hugely popular star turn in American Sniper this is a battle between Michael Keaton's comeback in Birdman and Eddie Redmayne's mimicry of Stephen Hawking in The Theory of Everything. (I still don't undersrtand how Steve Carell got the nomination that should have gone to one of two genius turns from Jake Gyllenhaal or Ralph Fiennes but that's another topic). For the win I vastly prefer Keaton's brilliantly funny and anguished spin on his own star persona but Oscar voters almost never let a year go by without rewarding a biographical performance so this year the signs point to Eddie Redmayne. 


 ACTRESS
After six nominations it's finally time for Julianne Moore's victory lap as one of the most essential screen stars of our lifetimes. Still Alice is a return to form but in truth she should have won this long ago (Boogie Nights and Far From Heaven, come on!!!) so my secret preference is Marion Cotillard, who justly blocked Jennifer Aniston's presumed nomination with transcendent work in the sad Belgian drama Two Days One Night. Reese Witherspoon (Wild), Rosamund Pike (Gone Girl) and Felicity Jones (The Theory of Everything) make this another pretty great category. 
GINGER FEVER !!!: Since both Julianne and Eddie will be winning on Oscar night its going to be a great night for ginger-fans. Are you among them?
It's just too bad that we won't get a recreation of Jules & Eddie's Hugh Dancy sandwich in Savage Grace.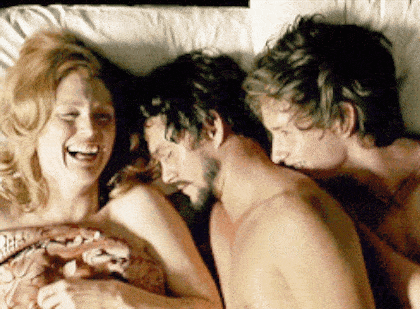 We'll make do with a photo op reunion of this former mother and son screen team. (If you've never seen Savage Grace rent it immediately. It's insane and gay.) 

 DIRECTOR & PICTURE
The story of the night is surely the battle between the two most vivid movie-stunts of the year: Alejandro  Iñárritu's Birdman and Richard Linklater's Boyhood. One is made to look like it was all done in one take in a very compact amount of narrative time with actors playing with their own personae and the other was shot over 12 years wherein you can watch a whole family grow up together. I like these incredible movies about the same (#2 and #3 on my top ten list this year) so this Oscar night will have a Happy Ending, at least for me, whoever wins.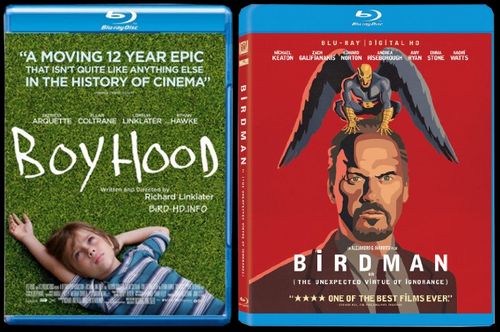 If you're putting money down go with one or the other to take both prizes (splits are more common than they use to be but still less common than the same film winning both) but my sense is that we'll see a split. One film takes Best Picture and the other gets Director as its consolation prize. I'm guessing Boyhood/Inarritu for now but frankly the reverse seems just as likely.
If you'd like a second opinion check out this chart featuring the "Gurus of Gold" featuring 14 top Oscar pundits including me. 
HAPPY OSCAR WATCHING !
Nathaniel Rogers would live in the movie theater but for the poor internet reception. He blogs daily @ the Film Experience. Follow him on Twitter @nathanielr.