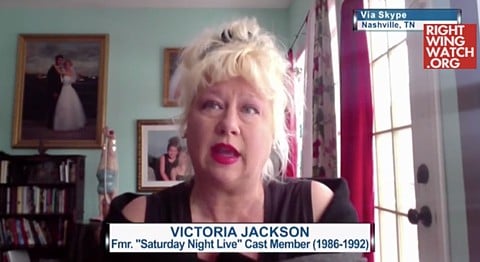 Former SNL player and current wingnut loon is still doing comedy, though she doesn't intend it as such.
Her latest bit comes via Right Wing Watch, and in it she accuses Obama of being a Muslim because he "supports abortion and same-sex marriage."
She doesn't get why everybody doesn't see it:
"The thing that is frustrating to me is every night I hear the news commentators say: Why is Obama doing this? Why is he helping the enemy? Why is he telling them where we're going to hit them? Why is he aiding and abetting ISIS? And I'm like, because he's one of them. It's so obvious. It's like the emperor's new clothes, you know? It's like nobody will say the truth. He's an Islamic jihadist."
Watch, AFTER THE JUMP…
And she wonders why she was not invited to the 40th Anniversary SNL special.