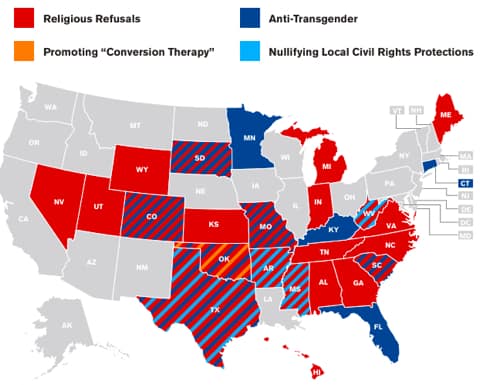 We've seen the "license to discriminate" bills that would allow businesses to turn away LGBT people based on religious beliefs. We've seen the bills that would prohibit cities from adding LGBT protections. We've seen the bills directly targeting same-sex marriage, such as revoking the salaries of clerks who issue licenses to gay couples — or even doing away with them altogether. And we've seen the bills that would make it a crime for transgender people to use restrooms according to their gender identity. 
Now, proposals targeting gay adoption have advanced in Florida and Michigan, with similar measures introduced in other states, signaling the latest flavor of anti-LGBT legislation in response to the spread of same-sex marriage to 38 states. (The Human Rights Campaign reports that 85 anti-LGBT bills have now been filed in 26 state legislatures, as shown on the map above.)
The Michigan House voted 65-44 on Wednesday to approve measures that would allow adoption agencies that contract with the state to discriminate against gays if it's part of their "sincerely held religious beliefs." The Hufffington Post reports: 
The legislation would protect agencies refusing service over religious beliefs from "adverse action" by the state, including limiting public funding and "discriminating against the child placing agency."

A series of Democrats spoke in opposition to the bills on the House floor Wednesday, arguing that it is backwards to make it potentially more difficult for LGBT families to adopt while there are several thousand children in Michigan waiting to find parents.

"No matter how well intentioned, these [bills] will produce bad results," said Rep. Jon Hoadley (D-Kalamazoo). "They put the best interest of the agency over the child, they are discriminatory … They violate our state constitution by elevating some religious beliefs above others. … They allow agencies to pick and choose what children they want to service [without having to be transparent]."
Meanwhile, a Florida House committee approved a similar measure — coincidentally, one week after the full House voted to repeal the state's unconstitutional ban on gay adoption. From The Florida Times-Union: 
Now, conservative groups are warning that some private agencies would close their doors rather than comply with a state law allowing gays and lesbians to adopt.

"My fear … is that some wonderful organizations who promote some forever families might likely have to shut down because they can't reconcile their beliefs with the state," said House Health & Human Services Chairman Jason Brodeur … 

The "conscience protection" bill would prevent the state from denying funds or licenses to private adoption agencies that refuse to make placements conflicting with the agencies' written religious beliefs.
Shockingly, one supporter of the Florida bill acknowledged that in addition to licensing discrimination against gays, the bill would allow agencies affiliated with one faith to turn away parents from another: 
"So as a single Jewish woman who was raised Catholic, I need not apply if I want to adopt a child?" asked Rep. Katie Edwards, D-Plantation.

"It probably would not be facilitated through a Catholic organization," acknowledged Michael Sheedy of the Florida Conference of Catholic Bishops.
Maybe the "unintended consequences" of these "religious freedom" bills aren't so unintended after all.