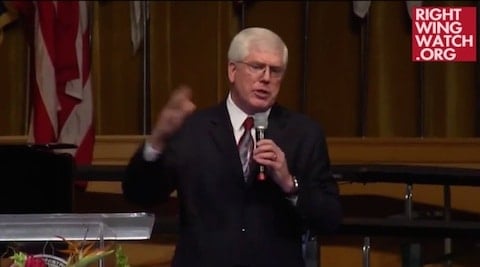 The Liberty Counsel's Mat Staver says obeying a nationwide marriage equality ruling from the U.S. Supreme Court would be the equivalent of turning a Jew over to the Nazis. 
Staver made the comments while speaking to a tea party group in Orlando last week, according to Right Wing Watch: 
"I know from the natural created order that God made male and female, a mom and dad, husbands and wives as the first foundation of family," he said. "And I don't care if it is a 9-0 decision, they can't change that and they won't change that. And if they come out with a decision that is contrary to God's natural created order, I personally will advocate disobedience to it … and collectively, we cannot accept that as the rule of law.

"You also have to be ready to pay the consequences," Staver continued, "because the civil government wrath is going to be poured out on you. But as a believer, you cannot obey something that is contrary to God's law. And we would easily say, well, what would happen if the government forced you turn over a Jew in Nazi Germany? All of us would say we wouldn't do that, we wouldn't listen to that. Well, we're about ready to walk into the moment."
Interestingly, during the very same speech, Staver touted a Liberty Counsel event featuring an "ex-terrorist" who allegedly threw Jews off buildings.
Also last week, Staver called for a boycott of professional sports teams that back same-sex marriage, which he said is "the most serious assault on our family, faith and freedom that we've faced in American history."
And referring to Supreme Court justices, Staver told OneNewsNow: 
"I'm warning them," he says, "and I think the rest of the country is willing to come together and warn them, that they need to come back in line with their constitutional duty, and that is to interpret the law, not create brand new law and be our social engineers."
By "the rest of the country," Staver must mean the 33 percent of Americans who still oppose same-sex marriage.  
Watch the clip of Staver vowing to defy a SCOTUS marriage equality ruling, AFTER THE JUMP …