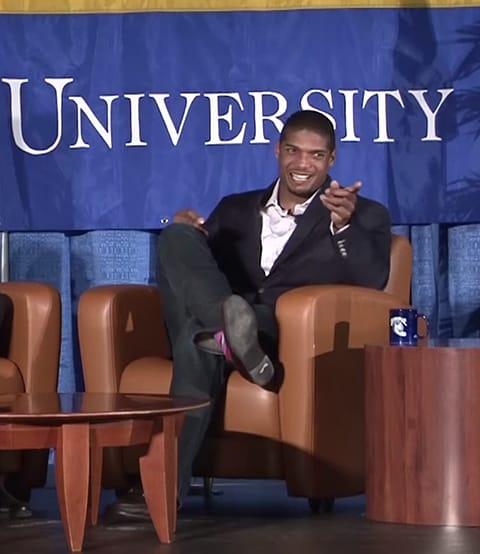 NFL free agent and Dancing with the Stars contestant Michael Sam gave a fascinating and forthcoming talk last week at Quinnipiac University about a variety of topics, including his fiancé Vito Cammisano, speaking about how the couple met: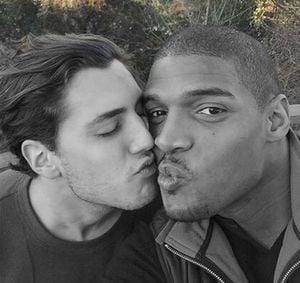 Sam told the crowd (7:30 in clip AFTER THE JUMP) that he met Vito at a Playboy bunny party at the University of Missouri and their first meeting was not the greatest. Sam said that at the party he saw two students who were "hammered" on the patio of the house where the party was at and went to see if they were okay. The first one he spoke to was Vito, who snapped at him, and said, "Get the ef away from me….do you know who I am?"
Sam thought angrily to himself, "I don't care who the hell you are."
Sam didn't talk to Vito for two years after the exchange, and actively disliked him. But one night at a bar when friends were encouraging them to get along, Sam says he placed his hand above Vito's butt "and after that…the rest is history."
They later broke up, Vito graduated, and they got back together after Sam found himself comfortable to come out, and Vito helped get him there.
Sam added that he is now sometimes criticized for dating a white guy:
"My fiance gave me the strength [to come out]. The challenge I get now is, why are you not dating a gay black guy? Why are you dating a white guy? Why would I do that? Why would I leave someone I fell in love with and have been through so many challenges with."
Sam also spoke about stereotypes, coming out, and other gay players in the NFL:
"I'm not the only in the NFL that is gay. I'm just the only one that is out."
He talked about Dancing with the Stars and the upcoming Veteran Combine:
"I thought I did enough in the preseason (last season), but apparently it wasn't enough. I just have to work harder. I'm certain, whatever league I'm playing in, that I'm going to be playing football somewhere next year…I've fought adversity all my life. It helped me become me."
Watch the full talk, AFTER THE JUMP…