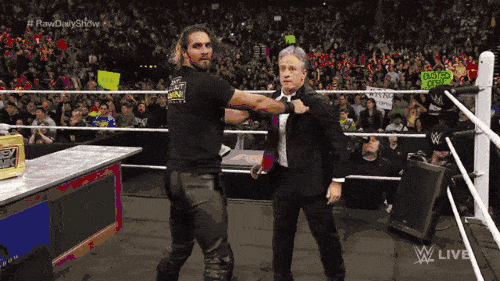 A war of words between WWE wrestler Seth Rollins and Daily Show host Jon Stewart has been building over recent weeks and finally came to blows on WWE'S Monday Night Raw last night.
Follow taunts earlier in February from Rollins…
"I am the most talented performer in the entire world. I can do whatever I want, whenever I want and there's nobody or nothing that can stop me. Hell, if I wanted, I could become president. I'm not even old enough to run for office. Or you know, I could take over as host of "The Daily Show" for Jon Stewart and make that thing actually watchable."
And a response from Stewart followed by Rollins' crashing of the Daily Show, the two finally met in the arena last night and Stewart showed Rollins who was the bigger man.
Watch, AFTER THE JUMP…