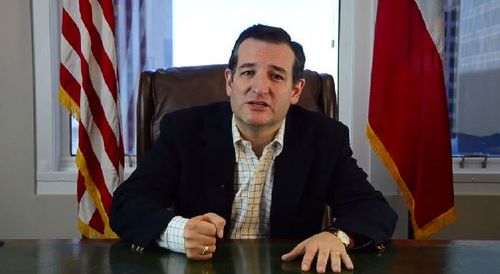 U.S. Sen. Ted Cruz (R-TX) is expected to announce his run for president tomorrow at an appearance at Jerry Falwell's Liberty University, Politico reports:
Cruz, a Republican who was elected to the Senate in 2012, will become the first announced candidate of the presidential campaign. […]
Cruz, 44, will be bypassing the traditional exploratory phase of the campaign, his aides said.
Cruz, a darling of the Tea Party and right-wing Christian crowds, earlier this past week introduced a disapproval resolution targeting the District of Columbia's LGBT protections. Last month Cruz reintroduced a bill that would prohibit the federal government from recognizing same-sex marriages in states that ban them. 
Cruz's rabidly homophobic birther father Rafael meanwhile, has been busy speaking out against various LGBT nondiscrimination measures popping up in cities across Texas.