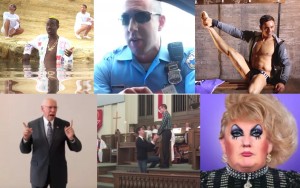 Need a refresher on all the informative, uplifting, sexy, and entertaining LGBT videos from this past week?
We've got the recap right here:
What do you think Donald Trump's drag name would be? Bonus points for creativity.
Getting ready on a Friday night 💅🏻👄#ElectionsDragYouOut @realDonaldTrump pic.twitter.com/zZhmm5Iern

— Saint Hoax (@SaintHoax) August 21, 2015
https://www.youtube.com/watch?v=kOgsyXzzITc
Rafael Cruz, the rabidly homophobic birther father of tea party firebrand Senator Ted Cruz, said at a recent gathering in Georgia that the devil "overplayed his hand" with the Supreme Court's Obergefell ruling legalizing same-sex marriage.
A sad reminder of the casual homophobia still thrown around by some today.
Outside of the Warwick Rowers, Tom Daley might be the best way to keep track of your dates, deadlines, and other calendar-related needs.
Family Research Council hate leader Tony Perkins appeared on Megyn Kelly's Fox News program Thursday to discuss the Josh Duggar cheating scandal and the impact it's having on the anti-gay movement.
The first single from Le1f's forthcoming album Riot Boi is called "Koi" and the trippy music video co-stars a brightly-colored school of koi, a set of oversized bubbles, and a giant set of pink sequined lips.
Here's Trump's answer to the question of how he'd explain his opposition to same-sex marriage to a gay son or daughter or grandchild:
Well it's the way it is. I wouldn't speak to them at all about it other than they are who they are and I want them to be happy and will love them and cherish them…I've gone to gay weddings. I've been at gay weddings. I have been against [gay marriage] from the standpoint of Bible, from the standpoint of my teachings as growing up and going to sunday school and going to church and I've been opposed to it and we'll just see how it all comes out.
Clear as mud.
[starts at the 6:00 mark]
Not a video but too important not to include in this week's round-up. Casey Davis, the Casey County, Kentucky clerk who is one of three county clerks in that state defying the Supreme Court's ruling in Obergefell v. Hodges, which legalized same-sex marriage nationwide, says he's willing to die fighting for man-woman marriage.
The martyr complex runs deep in this one.
A Methodist congregation in Austin, Texas stood, cheered, and applauded after a gay man made a surprise marriage proposal on the altar during the church service.
A heartwarming surprise for a state and denomination that are not exactly known for their LGBT inclusiveness.
https://www.youtube.com/watch?v=Esb7oBAHd7c
John Oliver is spot on as always in this excellent segment from last Sunday's Last Week Tonight.
Want more LGBT videos in your newsfeed? Click HERE and LIKE our page on Facebook. Select "get notifications" in pulldown menu to receive our headlines in your feed.