BY NAVEEN KUMAR
The dizzying rush of the first time we had sex or set eyes on a dead body aren't the sort of memories most of us try putting into boxes (the cropped squares of Instagram can only hold so much); such is the task laid out on the pages of Fun Home, Alison Bechdel's acclaimed memoir and graphic novel. The author's coming-of-age story about growing up as a lesbian with a closeted gay father, who killed himself just as she embraced her own self-discovery, comes vividly to life in a new musical that opened last night at Circle in the Square — one of the most stirring and inventive on Broadway in years.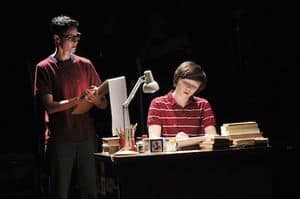 First produced at the Public Theater last season, the transformative adaptation presents an adult Alison (Beth Malone) as the writer and cartoonist trying to make sense of her formative experiences by distilling them into captions as they unfold on stage. The show lights on key moments in her relationship with her father (an unknowable character played with aching conviction by Michael Cerveris), particularly the intertwining paths of her sexual awakening with his struggle to suppress the shame and consequences of being gay himself. His end is her beginning, and telling their stories together becomes an integral part of her identity.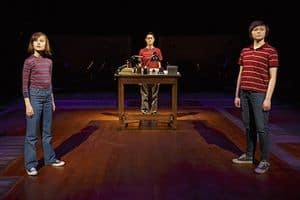 A young Alison (a poised and buoyant Sydney Lucas) appears in scenes of her 1970s childhood spent in an elaborately restored home, which her father curates like a museum, and which also houses the family business, the Bechdel Funeral Home (she and her brothers call it "fun home" for short). A post-adolescent Alison, played by a searching and lovable Emily Skeggs, makes her way through the often magically awkward rites of young adulthood (including an effusive morning-after song that's a delightful high point), and faces sobering revelations about her father's secret life and sudden death.
Music by Jeanine Tesori (Violet, Thoroughly Modern Millie) and book and lyrics by Lisa Kron (Well) lend lifelike dimension to the already rich story, adding new and compelling layers in both dialogue and song. Tesori and Kron brilliantly transpose the graphic novel's focus on the author's search for her voice, as well as its framework of visual recollection. Like Bechdel's drawings, Kron's lyrics capture the way memories are often marked by specific, often random visual details — like a ring of keys on someone's belt loop, or the rise and dip of telephone wires rushing past a car window.
Dynamically staged in the round by director Sam Gold (The Real Thing, Picnic), the production has the nostalgic palette and warm, faded hues of a '70s photo — as though we are watching Alison thumb through a family album. By the end, you may feel you know the family as well as if the album belonged to you — their story may be a far cry from yours, but its extraordinary telling touches on emotional truths that will surely hit home for everyone.
Recent theatre features… 
Kelli O'Hara and Ken Watanabe Open In Lavish Broadway Revival of 'The King and I': REVIEW
Matthew Morrison and Kelsey Grammer Open in 'Finding Neverland' on Broadway: REVIEW
Ballet Meets Broadway in Dazzling New Musical 'An American in Paris': REVIEW
'90s Political Sex Farce 'Clinton the Musical' Opens Off Broadway: REVIEW
Possessed Puppet Comedy 'Hand to God' Opens on Broadway: REVIEW
Carey Mulligan and Bill Nighy Open in 'Skylight' on Broadway: REVIEW
Elisabeth Moss and Jason Biggs Open on Broadway in 'The Heidi Chronicles': REVIEW


Follow Naveen Kumar on Twitter: @Mr_NaveenKumar (photos: joan marcus)