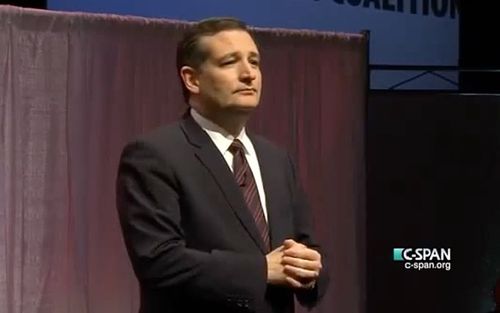 At Iowa's Faith & Freedom Summit on Saturday, Republican presidential hopeful Ted Cruz attacked "liberal fascists" in the "radicalized" Democratic party for persecuting Christians, attacking "religious liberty", and seeking to destroy "traditional" marriage.
Watch Cruz's remarks, if you can stomach them, AFTER THE JUMP…
Cruz called on Republicans to get down on their knees and pray that the Supreme Court does not rule in favor of equality:
"What a sad statement that today's modern Democratic party has become so radicalized in their devotion to mandatory gay marriage in all 50 states that there is no longer any room for religious liberty…How radicalized has the modern Democratic party got? And we see this especially in the marriage debate. On Tuesday, the United States Supreme Court will hear oral arguments in a case that threatens the Court may well attempt to strike down marriage laws in all 50 states. I have to tell you one thing that I think all of us are called to do between now and then and especially on Tuesday – is fall to our knees in prayer."
Cruz clucked about the recent anti-gay legislation he introduced in the Senate:
"This week I introduced in the U.S. Senate a constitutional amendment to preserve the authority of the states to define marriage as the union of one man and one woman. I also introduced legislation in the United States Senate (identical to that of Rep. Steve King's) to strip federal courts of jurisdiction over any litigation seeking to tear down traditional marriage laws in the United States. We need leaders who will stand unapologetic in defense of the Judeo-Christian values America was built on. We need leaders who will stand unapologetically in defense of marriage and life."
Cruz accused the Democratic party of rejecting Christians and warned of the "liberal fascism" at large:
"Today's Democratic party has decided there is no room for Christians in the Democratic party….The modern Democratic party has gotten so extreme, so intolerant there is a liberal fascism that is dedicated to going after and targeting believing Christians who follow the Biblical teachings on marriage."
Watch Cruz's remarks, if you can stomach them, AFTER THE JUMP…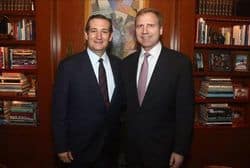 Cruz, of course, recently found himself in front of a much different audience — a pair of gay hoteliers who are now facing backlash  (and a planned protest this evening) for hosting an intimate reception at their apartment.
In a statement following the reception, Cruz issued a statement apparently meant to appease conservatives which said, "The purpose of the meeting and the primary topics of conversation were national security, foreign policy, and America's commitment to standing with Israel. On the subject of marriage, when asked, I stated directly and unambiguously what everyone in the room already knew, that I oppose gay marriage and I support traditional marriage."
The statement contradicted a report from the NYT which said that he "did not mention his opposition to same-sex marriage, saying only that marriage is an issue that should be left to the states."