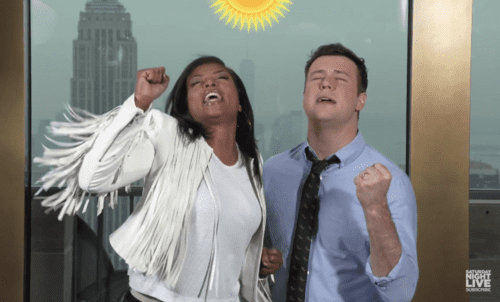 When word broke that Taraji P. Henson would be hosting this weekend's episode of Saturday Night Live, the internet trembled with the collective gasps of Empire fans. On the one hand of course Henson would be hosting SNL; her name's Cookie. Ask about her. As much of a runaway hit as Empire's proven to be for Fox, Henson's performance consistently stood out and defined the entire season.
For others, though, the significance of Henson's upcoming guest spot stems from how few black women have ever actually hosted the show. Henson will be the 10th black woman to grace SNL's stage as a host, following in the footsteps of Janet Jackson, Oprah, and Kerry Washington. In an interview with Entertainment Tonight the Empire actress explained that seeing herself spoofed in a recent SNL sketch hammered home just how much of a cultural phenomenon Empire has become.
"It's like a dream come true," Henson said of her hosting gig. "Legends do SNL. I'm a legend."
Check out the Taraji P. Henson's promo clips for this weekend's Saturday Night Live AFTER THE JUMP…