You won't get too much of an argument calling Matt Bomer one of the hottest actors today, and not only because he's got those Hollywood handsome good looks. The star of screens both big and small will be heating things up this summer in Magic Mike XXL and then bringing the scares in Ryan Murphy's American Horror Story: Hotel.
Bomer came out publicly in 2012 while accepting the New Generation Arts and Activism Award from the Steve Chase Humanitarian Awards. In his acceptance speech, he said "And I'd really especially like to thank my beautiful family: Simon, Kit, Walker, Henry. Thank you for teaching me what unconditional love is. You will always be my proudest accomplishment," acknowledging his husband and three children.
His coming out set rumors about the actor's sexuality to rest, but it also raised the age-old questions about openly gay actors playing straight heartthrobs. There was a lot of momentum to cast Bomer as the lead in the film adaptation of kinky housewife trash-lit Fifty Shades of Grey. (The role eventually went to Jamie Dornan.) Bret Easton Ellis, who was once in the running to be the screenwriter for the film, said that Bomer couldn't play the role because of his sexuality. He tweeted "Okay I'll say it. Matt Bomer isn't right for Christian Grey because he is openly gay. He's great for other roles but this is too big a game."
Additionally, novelist Jackie Collins, claimed Bomer missed out on playing Superman after coming out. She told Gaydar Radio, "Matt Bomer, who is the most gorgeous looking guy and the star of White Collar, he was up for the role of Superman. He had not come out of the closet but people in the know knew he was gay. His audition tape went in and he called up the agent. Someone didn't like him and told them he was gay. They said, 'No, no, we can't cast you.' The reason he didn't get cast was because he was gay."
Still, Bomer's kept himself pretty busy. Take a look at some of our favorite Matt moments, AFTER THE JUMP …
Bomer is perhaps best known as the lead on USA Network's White Collar where he played Neal Caffrey, a con artist and FBI informant. The series ran for six seasons, premiering in 2009 and ending its run last December. His work earned him a People's Choice Award for Favorite Cable TV Actor earlier this year.
He described his high school experience to E! in 2012, "When I was in high school, there was no safe haven, there was no outlet for you to speak your mind," he said. "So I did what any self-preserving 14-year-old would do—I signed up for the school play and also the football team to cover my tracks." Bomer returned to high school to play Blaine (Darren Criss)'s older brother on Glee.
This summer, Bomer will reprise his role as a pretty-boy stripper in Magic Mike XXL. He described the difference between men and women at strip clubs to Vulture in 2012: "The difference between men at strip clubs and women at strip clubs is that when women go, they want more of an experience. They also go in packs, and they go to laugh. But hey, it's high time we turn the tables and objectify some men!"
Many would argue Bomer turned in his best performance as Felix Turner in The Normal Heart, directed by Ryan Murphy. Bomer went through a grueling physical transformation to portray his character's struggle with AIDS. Bomer won a Golden Globe for the performance. It was announced recently that Bomer is going to take another gay role, this time as closeted actor Montgomery Clift in an upcoming biopic.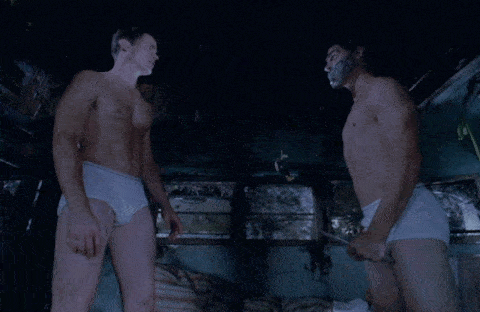 In addition to Glee and The Normal Heart, Bomer made an appearance in one episode of Ryan Murphy's The New Normal, as well as the previous season of American Horror Story. This fall, he returns to check into American Horror Story: Hotel, along with Cheyenne Jackson and Lady Gaga.
What's your favorite Matt Bomer work?