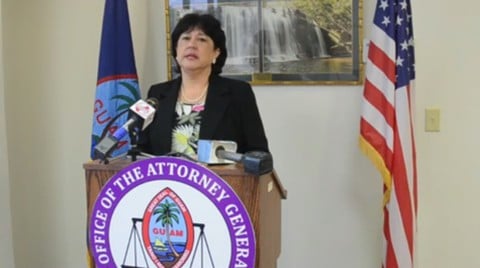 In a press conference earlier today, Guam's Attorney General Elizabeth Barrett-Anderson ordered officials to process same-sex marriage applications beginning immediately. Barrett-Anderson sent a legal memorandum to Public Health's acting Director Leo Casil. Barrett-Anderson's memo:
"The Department is advised to treat all same gender marriage applicants with dignity and equality under the Constitution of our nation, and the ruling of the Ninth Circuit Court of Appeals…While the (Public Health) Department was acting in accordance with Guam law, the Ninth Circuit's recent decision has rendered Guam's marriage statute legally unenforceable until such time that the Supreme Court of the United States alters the holding of the Ninth Circuit of Appeals."
Guam couple Loretta M. Pangelinan and Kathleen M. Aguero (below) applied for a marriage license earlier this week and were denied. They then filed a lawsuit in federal court.
Barrett-Anderson had released a statement earlier this week saying she is "deferring answering further questions on the issue of gay marriage until a later time."
Casil, who heads the agency which issues marriage licenses, responded, saying it will make a decision by Friday: "From my side, I just received a letter. It's not a legal opinion. It's a letter urging to issue the marriage licenses from the attorney general."
The department is looking to the governor's office for their decision, because the governor is listed as a defendant in the federal lawsuit filed Monday, Casil said.
Guampdn adds:
Gov. Eddie Calvo and Lt. Gov. Ray Tenorio issued a statement on the gay marriage issue. Although they respect the opinion of Attorney General Elizabeth Barrett-Anderson that Guam should allow same-sex marriage immediately, the administration is deferring a decision, according to the statement.
"If it is the will of the people of Guam to make same-sex marriage legal on Guam, then the Guam Legislature, the people of Guam's representatives, can take action to change the law, or a referendum can be held giving the people of Guam a direct voice in this issue," the statement read in part.
Watch Barrett-Anderson speak about her decision to order officials to process licenses,
AFTER THE JUMP…