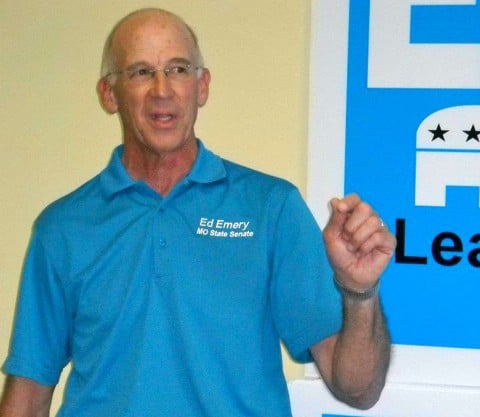 Missouri officials would lose their jobs for issuing marriage licenses to same-sex couples — or recognizing their unions for any purpose — under a bill introduced by a Republican state senator. 
Senate Bill 555, by Sen. Ed Emery (above) — which is similar to anti-gay legislation introduced in other states, but even more extreme — seeks to undermine a likely U.S. Supreme Court ruling in favor of nationwide marriage equality in June. 
The bill states that no same-sex marriage can be "recognized or enforced for any purpose in this state." It also states that no state or local funds can be used for the licensing or support of same-sex marriages, and that employees who violate those provisions "may be terminated and shall no longer receive any salary and employee benefits."
KOMU-TV reported this week on SB 555, which was actually introduced back in February: 
[Boone County Recorder Nora] Dietzel said she thinks this idea is "outlandish" and that her job requires her to follow the law, even if it is decided on the state, federal, or judicial level.

"Our personal opinion about same-sex marriage or whether or not that is right or wrong does not enter into it at all," Dietzel said. … 

"It certainly puts recorders in a bad position having to choose between doing what they feel their duty is and being attacked at a very personal level," Dietzel said.
In defending the bill, Emery invoked the popular right-wing argument that marriage was created by God: 
"We need to make a clear statement by the legislature that acknowledges the facts of this relationship versus the politics of it," Emery said.

Emery also said it isn't up to the state or any government employee to define marriage.

"The state did not create marriage, it did not define marriage, it simply acknowledges marriage by our laws," Emery said.
SB 555 is an emergency act — "necessary for the immediate preservation of the public health, welfare, peace and safety" — meaning it would take effect immediately if passed. However, given that the state's legislative session ends in two weeks and the bill hasn't had a hearing, that seems unlikely. 
Same-sex marriage is currently legal in the city of St. Louis, as well as in St. Louis and Jackson counties. Additionally, Missouri recognizes same-sex marriages from other states. 
Surprisingly, Emery hasn't experienced much backlash over the bill on Twitter, although we did find this little gem: 
@edemery Hey you old retarded bastard – do you understand what a Supreme Court decision means? pic.twitter.com/BumJww4W70

— Jerome Spiegelman (@jerrywiseowl) February 28, 2015