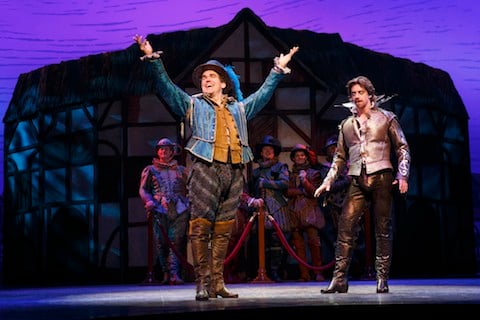 BY NAVEEN KUMAR
A love of musicals is something of a requisite for enjoying Something Rotten, a crowd-pleasing new one that opened on Broadway last night at the St. James Theatre. An origin story in the form of a send-up, the comedy about the first ever musical packs enough references to the Broadway canon to give any theatre queen whiplash. That's not to say this Renaissance-set romp isn't also chock-full of enough humor both high (Shakespearean sex puns) and low (regular sex puns) to please a range of tastes, but it saves its biggest winks for the regulars. Though often grossly (and unabashedly) overplayed, overall the show's on-the-nose wit is disarmingly funny and likely to charm.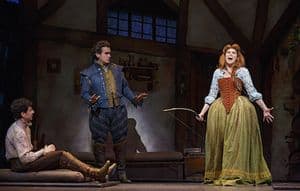 Nick and Nigel Bottom (whose last name is subject to innumerable obvious jokes, for some idea of how this is going to go) are playwriting brothers toiling in the shadow of Shakespeare (Christian Borle, doing his best Mick Jagger). Nick (played by spot-on everyman Brian d'Arcy James) is the ambitious one with the supportive, salt-of-the-earth wife (Kate Blickenstaff, excellent), and Nigel (an endearingly nerdy John Cariani) is the insecure poet. In hopes of outdoing the Bard, Nick visits a soothsayer (Brad Oscar) to find out what the next big thing in theatre will be (you'll never guess the answer!). Meanwhile, Nigel is busy exchanging verses and innuendo with Portia (Kate Reinders), daughter of this tale's Puritanical wet blanket (a priceless Brooks Ashmanskas), who speaks exclusively in euphemisms for gay sex.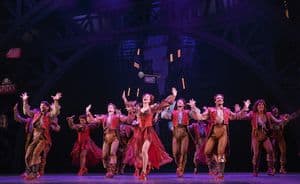 The music and lyrics by Wayne and Karey Kirkpatrick (brothers themselves, with impressive track records in song- and screenwriting) follow in the tradition of musicals like Spamalot and The Book of Mormon, pairing down-the-line melodies with nimbly clever lyrics that would never shy away from, say, rhyming "genius" with "penis." For the script, Karey Kirkpatrick and John O'Farrell freely mine Shakespeare's plays to assemble their framework — from fortune-telling, star-crossed lovers, and F-to-M cross-dressing, to a kvetching Jew and a trial.
Many of the musical's basest laughs would be plainly eye-rolling (or some even more so than they already are) were it not for director Casey Nicholaw's deft comedic hand coupled with the cast's timing and finesse. In true homage to the form, Nicholaw's choreography is likewise nail-on-the-head (you didn't think you'd escape without a full-company kick line and a handful of tap numbers, did you?). Eclectic fairy tale sets by Scott Pask flow seamlessly, and don't expect to covet any of Gregg Barnes' kooky mash-up of period and fantasy dress (except maybe a wig or two for your next lip sync).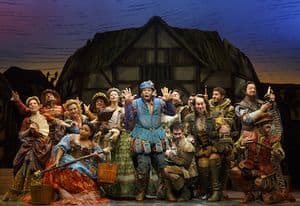 Something Rotten arrives at the table eager to show off a full bag of tricks — stacked high with insider jokes wrapped in a by-the-book iteration of the form it both worships and spoofs. Like most tongue-in-cheek musicals (and most musicals in general, for that matter), its persistent gesture is more of a wallop than a nudge. And if, one hand in five you pull up, well, something rotten — you came to the table, didn't you?
Recent theatre features… 
Alison Bechdel's Graphic Novel Comes to Broadway in New Musical 'Fun Home': REVIEW
Kelli O'Hara and Ken Watanabe Open In Lavish Broadway Revival of 'The King and I': REVIEW
Matthew Morrison and Kelsey Grammer Open in 'Finding Neverland' on Broadway: REVIEW
Ballet Meets Broadway in Dazzling New Musical 'An American in Paris': REVIEW
'90s Political Sex Farce 'Clinton the Musical' Opens Off Broadway: REVIEW
Possessed Puppet Comedy 'Hand to God' Opens on Broadway: REVIEW
Carey Mulligan and Bill Nighy Open in 'Skylight' on Broadway: REVIEW


Follow Naveen Kumar on Twitter: @Mr_NaveenKumar (photos: joan marcus)