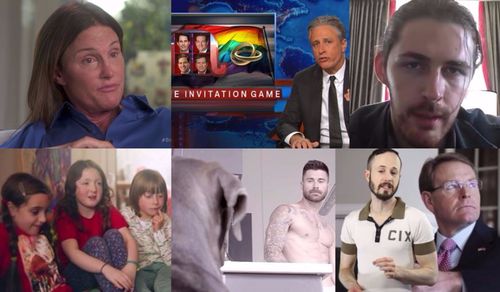 Need a refresher on all the informative, uplifting, sexy, and entertaining LGBT videos from this past week?
Look no further as we count down the best of the best, AFTER THE JUMP…
10. 'Take Me to Church' Singer Hozier Speaks Out for Marriage Equality in New Video
Irish singer-songwriter Hozier speaks up for marriage equality, urging people to go to the polls on May 22 and approve marriage equality in Ireland, in a new video for the 'Straight Up for Equality' campaign. As you may recall, Hozier's first video for "Take Me To Church" was a chilling commentary on anti-gay oppression in Russia. 
9. Honey Boo Boo's Mama June Comes Out as a 'Minor League' Bisexual
June Thompson, better known as the matriarch to one Honey Boo Boo and co. has come out as bisexual in an interview with her third eldest daughter Lauryn (Pumpkin), who also now identifies as bisexual.
"It's no big deal, I was young and experimented with it, never went pro though just played the minor leagues," June explained, saying that she wasn't all that worried about what people might think. "I look at it this way–haters are gonna hate."
8. Are All Men Dogs?
Rumer Willis, Skylar Astin, Tyler Oakley, Lance Bass, Courtney Act, Brad Goreski, Darren Criss, and Robbie Rogers voice dogs in this commentary about cruising featuring Kyle Krieger and directed by Jake Wilson.
7. Irish Kids Say 'Yes' for Marriage Equality in Adorable New Ad Ahead of Referendum
Another heartwarming "Yes" campaign video from Ireland. The country votes on marriage equality May 22.
6. Matt Baume Destroys a Family Research Council Infomercial with a Million Truth-Telling Wounds
Keeping the Family Research Council honest is a tough job because they're all about lies and distortions, but Matt Baume is up for the task of taking down their new infomercial "One Generation Away" and its many, many lies. 
5. Transgender Boy's Parents Tell the Emotional Story of Discovering Their Son's Identity
If you haven't already started watching NBC Nightly News series on transgender kids, you're really missing out.
Hear Jacob's story below:
When Mimi and Joe Lemay's baby was born in 2010, they heard the three words every parent waits to hear: "It's a girl." But by age two, their child was saying "I'm a boy." Mimi hoped this "obsession with being a boy would go away," but it only grew stronger. Now, in a rare and candid interview, they share in their own words why they decided to let their five-year-old transgender son Jacob transition and live publicly as a boy.NBC's Kate Snow will have more on Transgender Kids beginning Tuesday night on Nightly News.

Posted by NBC Nightly News on Monday, April 20, 2015
4. Jon Stewart Laughs at the 2016 GOP Candidates' Pathetic Attempts to Respond to Gay Wedding Invites
Scott Walker, Marco Rubio, John Kasich, Ted Cruz, and Rick Santorum have all been asked whether they would attend a gay wedding, and the stumbling and fumbling has caused an opportunity for Jon Stewart to have them by their tails.
"If you can't handle these questions, how are you going to handle….Putin…asking you to go to a gay wedding? This election is going to boil down to who do you trust… to pick up the phone at 3 am and RSVP to a gay wedding."
3. NOM Holds Its Third (And Possibly Final) Anti-gay March for Marriage Hate Rally
Ahead of the Supreme Court's oral arguments in the same-sex marriage cases on Tuesday, the National Organization for Marriage and its supporters announced their intentions to kick and scream all the way into the dustbin of history. 
Good riddance.
2. Bruce Jenner: 'I Am a Woman' 
After months of media speculation, former Olympic champion turned reality TV star Bruce Jenner finally came out as transgender in an interview with Diane Sawyer.
"Bruce lives a lie, she is not a lie," Jenner says. "I can't do it anymore."
1. ACLU's Emotional Pop Culture Supercut of the Road to Equality Is Must Watch Marriage Material
In 1970, the ACLU filed the first freedom-to-marry lawsuit in the United States. 45 years later they are at the Supreme Court to fight to win the freedom to marry for couples in all 50 states. To mark the decades of progress, the ACLU has posted a video tracking pop culture's journey towards marriage equality. A must watch that includes clips from Thirtysomething, Longtime Companion, The Kids Are All Right, Roseanne, Glee, ER, Orange is the New Black, Will and Grace, In & Out, Transparent, The Wire, The Golden Girls, The Real World, Northern Exposure, Friends, The Simpsons, Parks and Recreation, Grey's Anatomy, Modern Family, and The Birdcage.