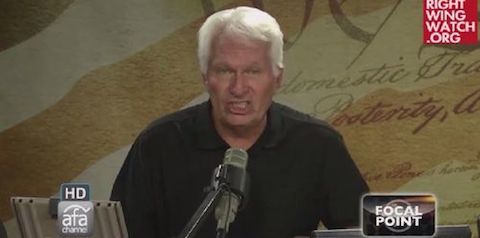 Following in the footsteps of evangelical leader Franklin Graham, former American Family Association spokeshater Bryan Fischer warned on his radio program of the "moral catastrophe" should the Boy Scouts of America end its ban on gay leaders as BSA president Robert Gates urged this week. 
Said Fischer:
We know there's a high degree of correlation between homosexuality and pedophilia. Now the world out there doesn't know that…it's no longer going to be 'Boy Scouts of America,' it's going to be 'Gay Pedophiles Scouting for Boys'
Watch, AFTER THE JUMP…
Yesterday, Fischer came of the aid of fellow anti-gay hater Tony Perkins and the Family Research Council in the wake of FRC leader and admitted child molester Josh Duggar's resignation. 
Wrote Fischer: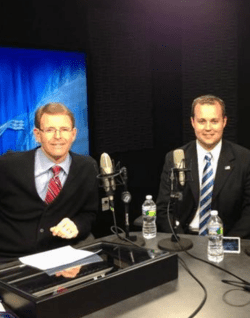 [Perkins] certainly is not to blame for what a teenage boy did 13 years ago, and not to blame for only finding out about it yesterday. He can only be faulted if he had failed to act with wisdom and strength when the news broke. 
But Mr. Perkins acted in accordance with FRC's values in dealing with this situation just as he does when dealing with legislation on Capitol Hill. There's no hypocrisy here whatsoever. Instead, what we see is fidelity to FRC's abiding principles, and a commitment to apply those principles without partiality. 
Certainly Mr. Perkins should have had this information at the time the hiring decision was made. Why he didn't is a matter for another day, but in point of fact he didn't have it, and when he did get it, he acted quickly and correctly. 
The public revelations of what happened over a decade ago will certainly rock the Duggar family for years to come and will unsettle the folks at FRC and in the larger pro-family community for a time. But whatever failures led to this, none of them can be laid at Tony Perkins' feet. 
Heartbreaking? Yes. Hypocritical? Absolutely not.