A Longmont Twin Peaks Charter Academy High School student valedictorian with an impressive 4.5 GPA and scholarship to Rutgers University was denied from speaking at his graduation by school officials after he wanted to reveal he is gay in his graduation speech reports The Denver Post. Valedictorian Evan Young wanted to add a theme of respect toward people in his speech and felt that revealing his homosexuality in the speech was the best way to convey it.
Said Young:
"My main theme is that you're supposed to be respectful of people, even if you don't agree with them. I figured my gayness would be a very good way to address that."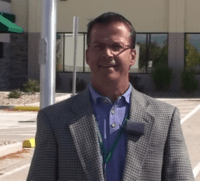 Young emailed academy Principal BJ Buchmann (right) his initial draft, and was asked to omit that he's gay from the speech; Young emailed a final draft to Principal Buchmann with the reveal still in the speech and sent a handwritten letter expressing why he wasn't removing it:
"On the Friday, the day before the ceremony, I had written him (Buchmann) a handwritten letter so that he couldn't forward it. I'd told him I'm not going to remove the part where I say I'm gay, because I am. It's important to me. And I said if he has any questions, he can contact me by email over the next 24 hours or so…He didn't ever email me back, and so I figured he must be OK with my speech."
School officials argue that Young didn't abide by prescreening rules and that his speaking engagement was canceled in order to "protect the solemnity of the evening and to preserve and protect the mission of the school."
Young wasn't notified he was barred from speaking at the graduation until just hours before the actual ceremony. Additionally, Principal Buchmann contacted Evan's father, who didn't know his son was gay, about the inclusion of Evan's orientation in his speech. Although Evan's parents support their son, Evan felt violated that Buchmann shared this information before he intended on revealing it through his speech.
Said Young:
"I think what it mainly showed is that he didn't have a lot of sympathy for me, or someone in my position. He didn't understand how personal a thing it was, and that I wasn't just going to share it with people randomly, for no reason. I thought it was very inconsiderate for him to do something like that, especially without asking me first."
LGBT advocacy group Out Boulder created an opportunity for Young to share his speech in full on Sunday at a private home that is doubling as a fundraiser and award ceremony. One Colorado Executive Director Dave Montez, who attended a meeting with school officials and LGBT advocacy leaders regarding the incident, called the ordeal "disheartening."
Said Montez:
"I would say to the high school principal, outing someone to his family without giving them the opportunity to have that conversation, is dangerous and it can lead to terrible repercussions for LGBT kids."
Evan's parents spoke on his behalf with media yesterday outside of Out Boulder along with a statement from Out Boulder's Executive Director Mardi Moore on the matter. Watch the interview, AFTER THE JUMP…