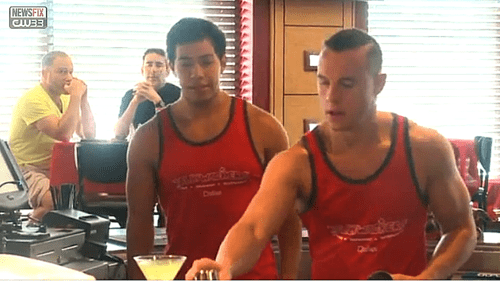 A Dallas restaurant serving up muscular waiters in tank tops and skin-tight short shorts/underwear opened for business this week after a Craigslist help wanted ad for the eatery got national attention in April.
Said one satisfied customer (in the yellow shirt, above):
"I expected to see cute men, scantily clad, and so far I'm not disappointed. I think it's about time men had a place to go to – gay men, at least – instead of places like Hooters and Twin Peaks."
According to one waiter, he's already got a few regulars.
According to Towleroad's John Wright, "For those familiar with Dallas, Tallywackers will occupy a seemingly cursed spot on Lemmon Avenue that changes restaurants every few years. But in a city that supports more than its fair share of gay dancer bars, perhaps Tallywackers will have better luck. At the very least, Tallywackers could make for another scandalous float in the gay Pride parade — and piss off the local newspaper columnist who's obsessed with that Squirt.org billboard."
Watch a report from KDAF featuring interviews with the servers, manager, and happy patrons, AFTER THE JUMP…