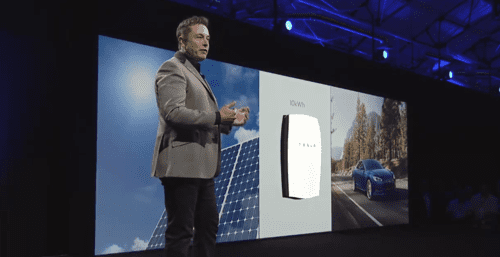 Last night Elon Musk took to the stage to unveil the next step in his ultimate plan for a more accessible energy efficient future. While Tesla, Musk's company, is best known for its high-end electric battery powered cars, Musk explained that the next big sustainable push he wants to bring to the market lies in a smarter energy grid. Tesla Energy, the company's newest product category, consist of two affordable home battery systems–the Powerpack and the Powerwall. Both batteries that can be wall mounted inside or outside of the home, and are able to soak up enough solar energy to efficiently power households without relying heavily on the traditional power grid.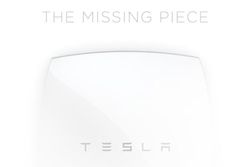 According to Musk the Powerwall and the more scalable Powerpack will allow consumers to create micro smart grids of their own that can run on solar energy as well as storing excess energy generated by the regular grid when it isn't under heavy use. At different points in any given day the cost of electricity fluctuates based on a number of factors like the total number of people accessing the grid and how much electricity they're using. According to Musk, Tesla Energy products monitor the overall stress being put on the grid and intelligently saps energy from it when it's at its cheapest.
Check out Elon Musk's keynote speech introducing Tesla Energy AFTER THE JUMP…
Both Tesla Energy products are priced competitively with the Powerwall ranging between $3,000-$3,500 for different configurations, but Musk's vision of a carbon neutral future isn't without some economic drawbacks. Tesla Energy presumes that homeowners already have their residences outfitted with the necessary solar infrastructure that the batteries rely on to capture energy.
Additional costs include buying an AC/DC power inverter and having an electrician install the batteries. The biggest challenge facing Tesla Energy at this point is the market for energy. Put simply–fossil fuels and other traditional energy sources still work out to be way cheaper as opposed to a blend of solar and something like gas. Writing for Gizmodo, Mechanical & Aerospace Engineering professor Dan Steingart explains that even under optimal conditions, Tesla Energy shakes out to being cost-prohibitive:
"On a per-kW basis installed it's roughly 10x the cost of a standard generator system, not accounting for the price of gas. Assuming gas is ~$0.03 to $0.05/kWhr and the generator setup is 20% efficient, the cost of energy is 4x to 8x, depending on hours of use.
Musk himself admitted that while he currently uses two Powerwalls in his own home, the "configuration of his roof" isn't quite what it needs to be to take himself completely off the grid. Tesla's vision is ambitious, to be sure, but it isn't quite attainable as of yet.