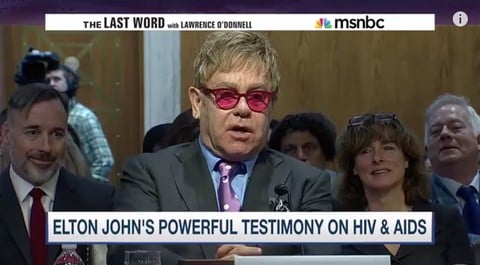 Elton John testified before Congress on AIDS this week for the first time in 12 years, delivering a message to the Senate Appropriations Committee, marking the progress made in more than a decade of fighting HIV/AIDS, and urging the panel to continue funding programs which are helping eradicate it.
Said Elton: "This Congress indeed has the power to end AIDS…There is a window of opportunity before us — a window through which we can very clearly see the end of AIDS — within my lifetime. We cannot afford to let that window close."
The testimony followed a reception the prior evening held by Sens. Lindsey Graham and Patrick Leahy at which John also spoke: "I'm here to say once again that we cannot have lost 40 million lives to HIV and AIDS in vain…Although PEPFAR and the Global Fund have made a huge impact, the reality is that most people living with or at risk of contracting HIV do not have access to lifesaving prevention, care and treatment. But all of that can change, and will change, if Congress remains steadfast in its commitment to ending this epidemic."
Also testifying was anti-gay Saddleback Church Pastor Rick Warren, who sat beside Elton during the testimony. Elton's husband and Chairman of the Elton John AIDS Foundation David Furnish, sat directly behind them. Furnish is serving as Grand Marshal of the  2015 Toronto Pride parade this year.
Watch, AFTER THE JUMP…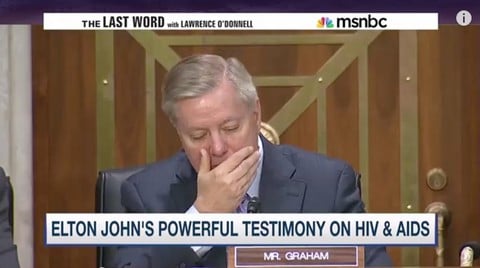 Here is the full panel: