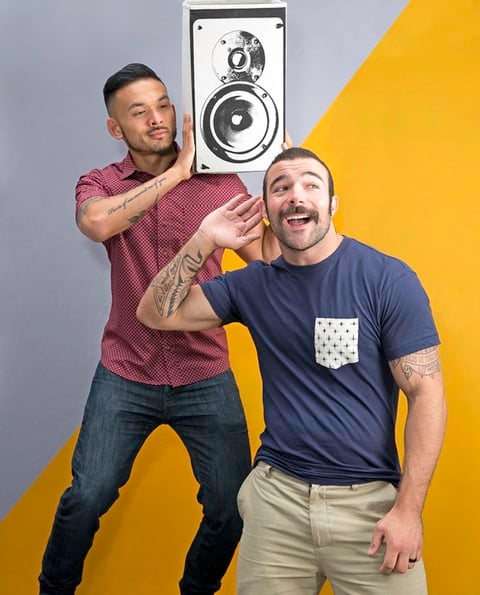 SPONSORED POST
In 2013, designer Peter Papas decided to do something not many in the fashion industry have the guts or the perseverance to do: follow one's voice and start a fashion brand. But Papas was inspired. Photos of his father and grandfather from the '50s and '60s sparked an idea — create a clothing line based on the fact that men share fashion traditions through generations. Because many styles from back then look as good on men wearing them today.

A 20-year fashion industry veteran in design and merchandising, Papas (right) also sought to give men something he didn't see in the market place: impeccably tailored men's staples from high quality material with personality to match the guys he encountered on a daily basis.
So Blade + Blue was born and the San Francisco-based designer and retailer (Papas lives in the Castro and married his husband in 2008) recently unveiled a summer 2015 collection filled with classic menswear pieces that embody the brand's commitment to timeless style.
Towleroad sat down with Papas to find out more about his fashion line on the rise and the inspiration behind the brand.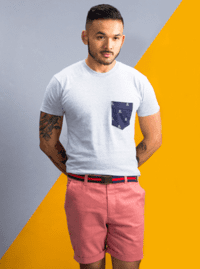 What inspired your latest collection?
The inspiration for this collection was how to balance fire and ice. Last year was a really intense year for Blade and Blue with lots of highs and some lows as well. I'm doing everything on my own so there were some times when I needed a break just to have some cool down time. But at the same time I would get so restless because I have these ideas for things I want to make and create.
So I was finding myself really in this pickle of, how do I balance this need to cool down with this intense fiery passion that I have to make and create beautiful things. So that's what I wanted this season to be about: how do you find that balance between the fire and the ice? The collection reflects this crossroads with dreamy prints and icy tones contrasted with hits of flaming red and shocking blue to balance it out and give it energy.
What is your most iconic item?
The paper planes necktie. I was thinking back to high school and we used to make paper planes and throw them. I was doodling and I thought there was something beautiful about the pattern of it. I worked with a local screen printer, we took strips of chambray fabric and we screened the artwork onto the chambray and I had some ties and bowties made up. It's been phenomenal to see people respond to it.
I also have to mention the boxer shorts. This is something that has caught fire. Their inspiration came from the fact that all pants are just cut slim cut now. So when you try to wear boxer shorts from any other company, they are so big and so baggy they end up feeling like a diaper. I basically wanted a boxer short that was as sexy as my skinniest pair of jeans.
Your models are a little different than the average male fashion models we often see. What do you look for when choosing a guy to represent Blade + Blue?
The models are my friends. It's a very natural thing. These are all people that are just trying to rally around someone they care about and help them achieve their dream. Like my neighbor Brian Maier (pictured in boxers, who has developed quite a following on Instagram). I approached him one day and said here's what I'm doing, it's a start up, would you be interested and helping me out and doing this with me? And he agreed to do it. He has become one of the faces of Blade + Blue. People associate my brand with his face. I think there's something incredibly different about that. It's not staged and not affected and i think that's something people really respond to.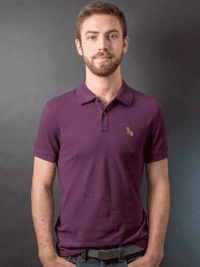 Where does the name Blade + Blue come from?
Blade + Blue comes from one of my dogs. He was so sad in the shelter that they called him "Lonesome Blue". He looked so handsome but miserable. I adopted him and named him Blade because of the blade of white fur on his black face. He has grown into an incredibly strong, athletic champion. He has shown me that I should never underestimate the underdog.
The logo is my other dog, Gavin. One night when I was in my studio working, pinning some inspirations onto a board about what I wanted Blade + Blue to be, I completely lost track of time and I looked to my side and Gavin was sitting next to me and there was something in his eyes that said, 'You've been questioning what you want to do with your life?' So when I thought about a logo I went right back to that minute when the look in that dog's eyes told me this is the path you need to take.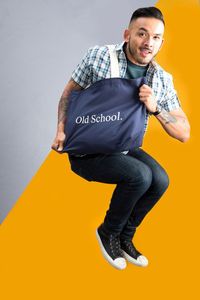 Tell us more about the company ethos behind Blade + Blue? 
I wanted to do something that had a human connection. I wanted to feel like when people buy something on the internet there's a real person whose life they are affecting when they make that purchase. I'm trying to have a conversation with customers by saying, 'Here's who I am, here's what I'm really excited about and passionate about, I hope you like it too and thank you for supporting this small company because you have a lot of choices out there.' When someone buys something on the site they get an email directly from me that thanks them for their purchase and just lets them know that if they need anything else at all they can contact me and I'll do everything I can to make them satisfied with Blade + Blue. I don't think they get that from a lot of other companies.
Blade + Blue is donating a portion of its sales this month to The Matthew Shepard Foundation to celebrate Pride. What this organization?
In 2014 a shot of two boyfriends who were modeling for Blade + Blue was used on the website. Then the reaction happened and it was so shocking to me. People were sending me emails saying we should all just go and die of AIDS and lots of uses of the word 'faggot.' It made me realize that I haven't had to deal with many of these types of things since high school. So we decided to turn a negative into a positive. [Donating a portion of our proceeds to The Matthew Shepard Foundation] is something I've continued to do periodically. And I thought, what better way to celebrate Pride month?
Now through through July, use promotion Code: MATTHEW at checkout on Blade + Blue's website and 15% of these sales will be donated to The Matthew Shepard Foundation. Plus, you'll receive free shipping on your order. 
You can also check out a comprehensive list of all locations where Blade + Blue is sold HERE. 
SPONSORED POST