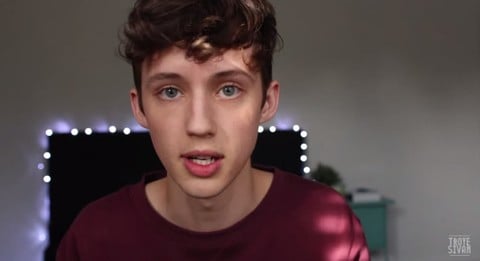 Out actor and YouTube sensation Troye Sivan, who played young Wolverine in X-Men Origins and came out as gay in 2013, took to his vlog to discuss an oft overlooked subject in the LGBT community: what happens after coming out. Sivan says, "I feel like not enough people talk about that…Coming out is 100% without a doubt the best decision I've ever made in my entire life", yet the day after he came out? Well, that's a different story:
The day after I came out of the closet was one of the weirdest and worst days of my life. I felt like it was just the strangest experience in the world to all of a sudden have everyone in my family and everything know the secret that I'd been keepinf for 15 years, I felt really exposed and really dirty.
The reality Sivan points out is that there's not a lot of emphasis on preparing LGBT youth for what happens after coming out. He hopes to engage his YouTube followers to talk about their experiences coming out and how they've dealt with their identity in the wake of revealing to their friends and loved ones who they are and who they love. 
In his video, Sivan also touched on the "weird delay" that LGBT people often experience as a result of starting to date and explore romantic and sexual relationships at a later age than their heterosexual peers.
Watch Sivan parse coming out and its after effects, AFTER THE JUMP…