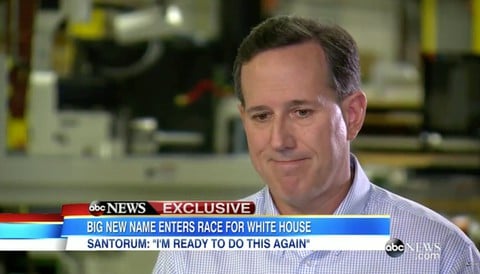 In a wide-ranging interview with George Stephanopolous that included ISIS, immigration, and Hillary Clinton, 2016 GOP presidential hopeful Rick Santorum took a moment to remark on the revelations that FRC staffer and family values crusader Josh Duggar sexually abused five underage girls more than a decade ago.
He took a different tack than Mike Huckabee, who stood by the Duggar family and called Josh's actions 'forgivable.'
Said Santorum, who posed with Duggar for a photograph (below) in March:
"I was sickened by it. I was just sickened by it. I pray for those girls in particular. To have gone through that is … just hard to think about."
Watch, AFTER THE JUMP…
Great to be with @RickSantorum & @BenSeewald in #Houston today — standing for #ReligiousFreedom! @FRCAction #TX pic.twitter.com/r5BIwOOrJM

— Josh Duggar (@joshduggar) March 11, 2015