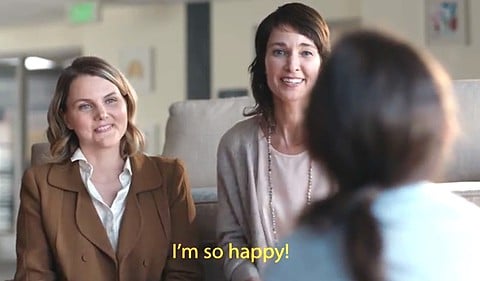 SPONSORED POST
Back in April, we told you about a new ad released by banking and financial services firm Wells Fargo that features a lesbian couple practicing sign language as they prepare to adopt a deaf girl. At the beginning of the video, we see only two women learning sign language, separate from one another, without a clear explanation as to why they have each taken on this task. However, we then see the two women together and nervous as they head to meet a deaf little girl who we learn will be their adopted daughter. The moms-to-be sign to her, "Hello beautiful. We're going to be your new mommies."
The video, which has already racked up over half a million views on YouTube, also features an actual lesbian couple and a girl who is deaf. Wells Fargo Chief Marketing Officer Jamie Moldafsky told Adweek that it was "really important that [the video] be very real and authentic and true."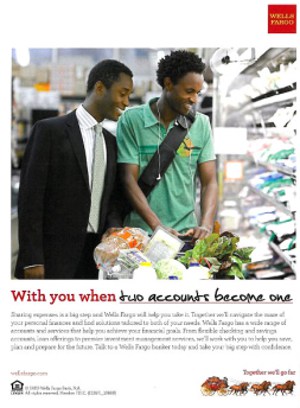 The video closes with a female voice saying, "Everyone works hard for a reason. Working together, we can help you prepare financially for when two becomes three." Wells Fargo has previously reached out to its LGBT clientele by creating campaigns that focused on the financial challenges ahead for LGBT customers when getting married, publishing print ads (pictured right) that read, "With you when two accounts become one" and featured both gay and lesbian couples. 
Wells Fargo, of course, is no stranger to celebrating its LGBT employees and customers. In 2015, Wells Fargo was ranked the number 1 company for LGBT Employees by DiversityInc because of their "deep commitment to internal inclusion and an understanding of the financial needs of LGBT customers." Wells Fargo has also received a perfect 100 score on HRC's Corporate Equality Index for the 12th year in a row. For LGBT customers, the company offers financial products and services tailored to their needs, understanding that LGBT couples and families in particular may have different banking needs compared to the general market.
Towleroad sat down with John Lake, Vice President and LGBT Segment Manager at Wells Fargo, to talk about the company's commitment to diversity and the story behind their inspiring "Learning Sign Language" campaign. 
What made Wells Fargo want to tell the story of two moms adopting a deaf daughter?
I think what we really wanted to do was to tell a universal story about creating a family. We'd been wanting to include LGBT imagery in our general market advertising for a while but we never really had the right opportunity. We wanted it to be authentic. This particular story just happened organically. We all knew once we heard it that it illustrated perfectly this idea of working hard to reach your goals in a really emotional and resonant way, whether the audience was LGBT or not. We really wanted to tell a story about a couple working hard to create a family. 
What has the response to the ad been like? 
The response has been unbelievably positive. When you do something like this you hope for the best and prepare for the worst. We didn't know what the response would be but it's just been fantastic. Both from the LGBT community itself but also from allies. We've received incredibly touching reactions from the two other constituencies that the commercial touches on, the disabilities community and the adoption community. Both groups have really embraced the ad. 
Internally, we've also seen amazing reactions from our team members, taking so much pride that Wells Fargo created something that really reflects the diversity of our team. 
The video has also become the most liked video ever on the Wells Fargo YouTube channel. All in all, the positive reaction surpassed our expectations.
What would you say is the most important financial thing LGBT couples can do when they're expecting to have a child?
From a financial perspective, the biggest need is to think long term. Usually, the biggest difference between LGBT and non-LGBT couples is that, for a same-sex couple, there's often an incredible financial commitment even before the child comes into the household. Yet it should be kept in mind that this is really only the beginning. Priorities change very quickly and it's often good to work with an advisor to prepare for things like college or a bigger home and to do that sooner rather than later. So think long term but start thinking long term when there's still time to put a plan in place.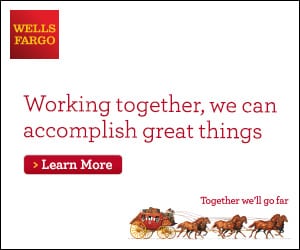 What kind of financial education does Wells Fargo offer that might be of particular interest to the LGBT community? 
Back in 2009, we developed and launched the ADPA program which is the Accredited Domestic Partner Advisor Program. This was the first time that there really was an actual accreditation for advisors to focus on the unique needs of same-sex couples. Launching this program really provided a fundamental core to be able to give the right guidance to the LGBT community. With national marriage equality on the horizon, we're obviously following the case [at the Supreme Court] very closely to see how that will impact our customers so we can be there to help guide our customers. It's so complicated and so complex and becomes even more complex when your relationship becomes legally recognized in some way. 
How have Wells Fargo's own LGBT team members helped and inspired the company to cater to and support the LGBT community at large?
We have a very active employee resource group, it's called the PRIDE team member network. It plays a key role in setting the tone for our priorities within the company. It's driven a lot of issues, everything from transgender ally training to even weighing in on how we approach big milestones like signing on to the Supreme Court amicus brief. They're instrumental as an advisory group within the company. 
Wells Fargo has always been an advocate for its LGBT members. We've been able to create a culture where our LGBT team members aren't just included but they're really valued and really listened to. We were able to give our LGBT resource group members a sneak peek of the ["Learning Sign Language"] commercial before it started airing, getting their feedback and hearing how much that personally meant to them. That's the sort of thing that's really important to Wells Fargo, making sure that our team members have a voice through their employee resource group. 
How does supporting the LGBT community fit with the message and mission statement of Wells Fargo? 
Our commitment to the LGBT community is part of our broader commitment to diversity across the board. We're a service focused business and our customers are first. Our vision and values drive us to respect and value the diversity of our team members, and not just our team members but our customers and even more broadly the diversity of the communities that we serve. This commercial and the whole campaign that it's a part of reflects the diversity of those communities.
In case you missed it, be sure to check out the touching "Learning Sign Language" video along with a behind the scenes look at the real life lesbian couple learning to sign with the young deaf actress playing their daughter-to-be, below: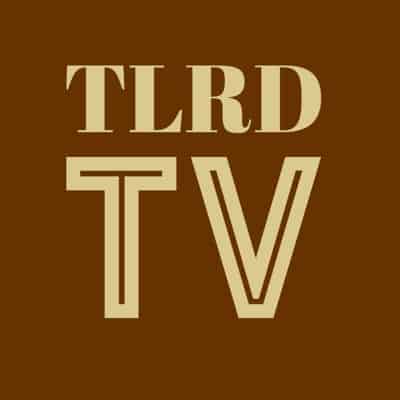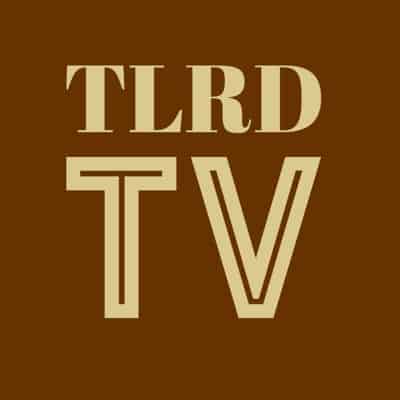 SPONSORED POST