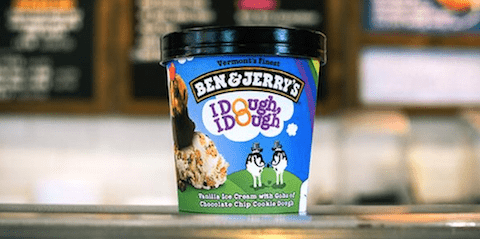 Ice Cream brand Ben & Jerry's changed the name of their chocolate chip cookie dough to "I Dough, I Dough," to celebrate the legalization of same-sex marriage nationwide yesterday reports Business Wire. Ben & Jerry's CEO Jostein Solheim claimed in a statement that the ice cream brand boldly stands for LGBT equality everywhere:
"Ben & Jerry's is proud of the Supreme Court's landmark decision against discrimination as it boldly stands up for equality for same sex couples everywhere…and at Ben & Jerry's, there's only one way to celebrate: with a scoop of I Dough, I Dough, Marriage equality never tasted so good!"
The commemorative pint sleeve is available for a limited time at select stores and can be purchased online at the Human Rights Campaign's store with all proceeds from sales benefitting the organization.
Ben & Jerry's has long been a proponent and supporter of gay rights with the company becoming the first to offer full benefits to same-sex couples in the state of Vermont in 1989.
(Photo via Twitter)