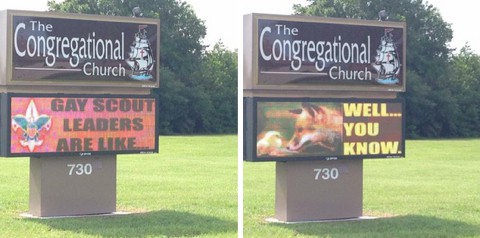 Last month we told you how President Robert Gates said the Boy Scouts of America could lift its ban on gay adult leaders by October.
Now, the hateful backlash from right-wingers appears to be getting into full swing.
A church in Nokomis, Florida — near Sarasota — has posted a message opposing the change that equates gays to pedophiles.
WTSP-TV reports:
Among messages of God loving everyone digitally displayed on a church Marquee in Sarasota there is this message "Gay Scout leaders are like…." followed by a photo of a fox and a chick and the words "Well… you know"

"He's trying to portray them as predators," says Sarasota Pride member Jeanie Keenan. She finds the sign offensive.

Keenan says, "His message isn't Godly it's hateful."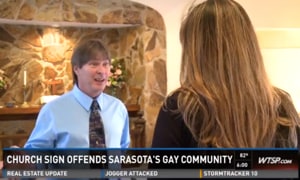 K.C. McCay, pastor of First Congregational Church of Laurel, claims he was molested as a Boy Scout. He also says he loves "homosexuals" in the same way he loves murderers.
Back in 2006, on the fifth anniversary of the Sept. 11, 2001 terror attacks, the church posted a message saying, "Muslims can convert to Christianity here!" The Herald Tribune reports:
The church, which was founded by his father in 1977, has between 50 and 100 members, depending on the time of year. It is a conservative church that views Christianity as the only path to God.

"We will not vary from that," McCay said. "If Muslims want us to water it down, that might be all right for you, but we're not biting."
Here's some of the feedback the church has gotten on Facebook:


Watch WTSP's report, below: