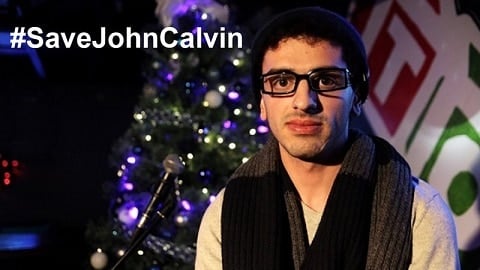 (Image via Change.org)
A gay Palestinian man is in fear for his life if he is deported from Canada, reports the Advocate.
The 24-year-old – using the name John Calvin to hide his identity – could be deported because of family ties to terrorist group Hamas, even though he has renounced the organization.
Calvin says he began to explore Hamas's antisemitism after he spent time in an Israeli prison for illegal border-crossing:
"[While in prison] another man, a Palestinian man, hurt me in a way I could never have imagined, in a way that just isn't talked about in our society.

"If that was unexpected, that was nothing compared to what came next. The Israelis who worked in the prison – 'the Jews' – looked after me and took care of me, making sure the story never got out to those who would use it against me. The Palestinians I had been taught to die for had hurt and abandoned me while the Israelis I had been taught to kill acted with compassion and helped me heal."
He later learned from his mother that – following his conversion to Christianity – Calvin's father planned to have him killed, at which point he fled to Canada.
Living in Edmonton, Calvin's application for refugee status has been denied. Authorities now plan on deporting him on November 4th.
In a blog post, he wrote:
"In January 2015, I gave an interview with The Times of Israel about my situation. Speaking to Israelis! That is a death penalty. Converting to Christianity! That is a death penalty. Being open about my sexuality! Again, that is certain death. If I am deported, sent back to where I was born and raised, it's only a matter of time before I am found dead."
Because Canada considers Calvin to be a former member of a terrorist group, he cannot appeal the denial of refugee status.
Calvin is now going through a risk assessment that could allow him to stay in Canada with limited rights.
He is also applying for a "ministerial exception," which would allow him to seek permanent residence in Canada. He could seek asylum in the U.S., which would likely require him to visit a U.S. embassy in Israel or Jordan.
Supporters have set up a Change.org petition appealing to the Canadian government to let Calvin stay in Canada.
Watch an interview with Calvin below:
https://www.youtube.com/watch?v=S5I6pEh-ATg