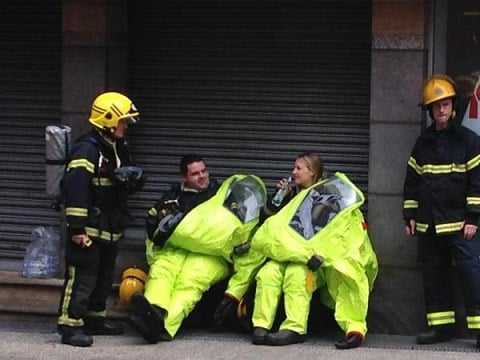 (Image via Twitter)
Yesterday afternoon, emergency services responded to a potential terrorist threat at the offices of Ireland's Gay and Lesbian Equality Network (GLEN), reports the Irish Examiner.
Suspicious package arrived to GLEN this morning. Terrific response from the emergency services. We're all safe! pic.twitter.com/emfVmovJWs

— GLEN (@glenLGBT) June 18, 2015
It's believed that an envelope containing blue powder and bearing the word "goodbye" was delivered to GLEN's Dublin offices. A GLEN spokesperson said staff were told to wait inside the building for the arrival of the bomb squad to inspect the package.
Army & bomb squad have arrived at @glenLGBT office now. Will assess suspicious package. Hoping my colleagues all okay pic.twitter.com/B8pWIWceMw — Odhrán Allen (@odhranallen) June 18, 2015
Several Fire Brigade units attended the scene. The Army Bomb Squad ruled out any danger about two hours later.
Thanks to this hero who saved the day.. pic.twitter.com/PdwiTbABsk

— GLEN (@glenLGBT) June 18, 2015