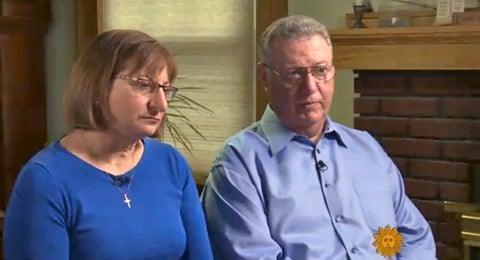 In a powerful interview with "CBS Sunday Morning," Tyler Clementi's parents talked about how his suicide still haunts them and unveiled a new anti-bullying initiative.
NorthJersey.com reports on the interview:
… Ridgewood residents Joseph and Jane Clementi discussed how hard life has been since the death of their son, who was an 18-year-old Rutgers University freshman when he jumped off the George Washington Bridge on Sept. 22, 2010. Tyler took his own life days after learning that his college roommate had used a webcam to secretly live stream his romantic encounter with a man in a dorm room, drawing national attention to the issue of online bullying.
In the wake of their son's death, in 2010 the Clementis formed the anti-bullying Tyler Clementi Foundation, which describes its mission as promoting "safe and inclusive spaces for LGBT and vulnerable youth and families." This week the foundation is rolling out "Day One, an initiative to get authorities in workplaces, schools, universities and athletic programs to immediately demand tolerance for everyone regardless of their sexual orientation, appearance, dress or religion."
From the website for the initiative, Day1Campaign.com:
The #Day1 Campaign is an effective, immediate and free way to reduce bullying, harassment and humiliation. It requires four main elements: 1) A person in authority, 2) clearly saying what behavior is expected and what behavior is not tolerated, 3) early in the tenure of new students/employees/athletes, and 4) receiving a verbal confirmation from the audience that they understand. Day 1 focuses schools, universities, workplaces, athletic programs, and other group environments on a targeted intervention during orientation. Day 1 clearly states that some forms of "socially acceptable" teasing or cruelty are unacceptable!
Watch the "CBS Sunday Morning" story, and check out a video on the campaign, below: