Activist group Queer Nation is planning to fly a banner over Fire Island Pines on Sunday urging a boycott of establishments owned by gay hotelier Ian Reisner, who it was revealed last week had lied about previously donating the maximum campaign contribution to Ted Cruz after hosting a dinner reception for the presidential hopeful at his Manhattan penthouse.
The banner reads "Boycott Hi/Lo Tea! Fight for Full LGBT Rights!" and is aimed at a boycott of "High Tea" and "Low Tea" cocktail hours  held at the Pavilion, a night club owned by Reisner. Reisner also owns Botel, Bistro, Sip-N-Twirl, Blue Whale, Pines Pizza, and the Cultured Elephant.
From Queer Nation press release: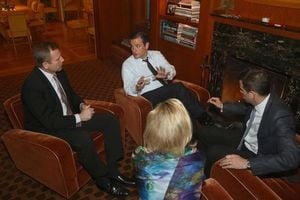 "Two gay business owners are making money off of the LGBT community at a world-famous gay vacation spot and then giving that money to outspoken anti-LGBT politicians," said Ken Kidd, a member of Queer Nation, the gay rights group that orchestrated the flyover. "Our community is out to win comprehensive federal legislation that will make LGBT Americans fully equal under the law. We will not be taken backward by funding anti-LGBT politicians."
As a result, in part, of Queer Nation's ongoing campaign for comprehensive civil rights legislation, a bill that would give all the rights and protections currently extended to all Americans to LGBT people will be introduced in the current Congress.
"Even if we win marriage equality in all 50 states at the US Supreme Court this month, a majority of LGBT Americans will still face discrimination in employment, housing, public accommodations, and other areas," continued Kidd. "Our community will continue to speak out against anyone—including gay men—who fund any opposition to comprehensive civil rights for LGBT Americans. Doing without a cocktail at Tea is a small sacrifice to make."
Last week, a Towleroad tipster sent along a photo of signs currently posted in Fire Island Pines urging a boycott of Reisner owned properties.