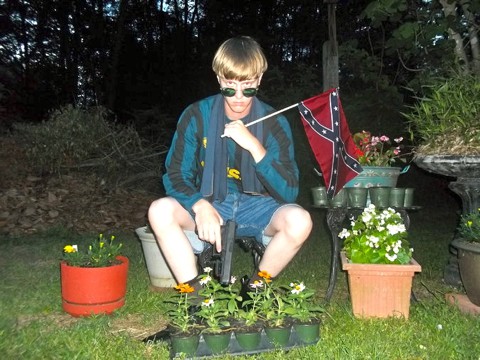 Earlier this month, we told you how the mayor of conservative Longview, Texas, issued a proclamation declaring June LGBT Pride month.
Among the many Longview residents who criticized Mayor Andy Mack over the proclamation was Earl Holt III, who wrote in a letter to the editor of the local newspaper:
With his recent proclamation declaring June our Lesbian, Gay, Bisexual and Transgender Month (news story, Tuesday), Mayor Mack has demonstrated that he is unable to say "no" to well-organized leftist interest groups demanding favors or privileges.

Many naïve businessmen enter the political arena clueless about the political environment to which they aspire. Since avoiding controversy seems to be an almost universal concern among them — so bad publicity won't translate into lowered profits — businessmen are extremely vulnerable to manipulation by the left and its endless public relations firms within the Corrupt Leftist Media.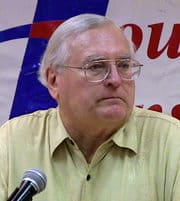 As it turns out, Holt (right) is the president of Council of Conservative Citizens, a white supremacist hate group that heavily influenced Dylann Roof (above), the 21-year-old who's accused of shooting nine African-Americans in an apparent hate crime at a Charleston, South Carolina church last week. In a manifesto posted on his website, Roof said he first learned about "brutal black-on-white murders" on the Council of Conservative Citizens' website in the wake of the Trayvon Martin case.
Holt, meanwhile, has made political contributions to numerous Republican politicians and causes across the country, including current GOP presidential candidates Ted Cruz, Rand Paul and Rick Santorum, as well as the likes of Reps. Michele Bachmann and Louie Gohmert.
The New York Times reports:
Mr. Cruz, a Texas senator, said Sunday night that he would be returning about $8,500 in donations that he had received from the Texas donor, Earl Holt III, who lists himself as president of the Council of Conservative Citizens. …

Mr. Paul's campaign said Monday that it planned to send $2,250 received from Mr. Holt to a victims' fund set up in the wake of the shooting. …

The group is regarded by the Southern Poverty Law Center, a leading authority on hate crimes, as a white supremacist extremist organization that opposes "race mixing" as a religious affront and that vilifies blacks as an inferior race.
More from the Southern Poverty Law Center about the Council of Conservative Citizens:
The Council of Conservative Citizens (CCC) is the modern reincarnation of the old White Citizens Councils, which were formed in the 1950s and 1960s to battle school desegregation in the South. Among other things, its Statement of Principles says that it "oppose[s] all efforts to mix the races of mankind." Created in 1985 from the mailing lists of its predecessor organization, the CCC, which initially tried to project a "mainstream" image, has evolved into a crudely white supremacist group whose website has run pictures comparing the late pop singer Michael Jackson to an ape and referred to black people as "a retrograde species of humanity." The group's newspaper, Citizens Informer, regularly publishes articles condemning "race mixing," decrying the evils of illegal immigration, and lamenting the decline of white, European civilization. Gordon Baum, the group's founder, died in March of 2015.
Ironically, one of the politicians who received money from Holt was Ohio Republican Sen. Rob Portman. But that was in 2010, before Portman's son came out as gay, and the senator came out for marriage equality.