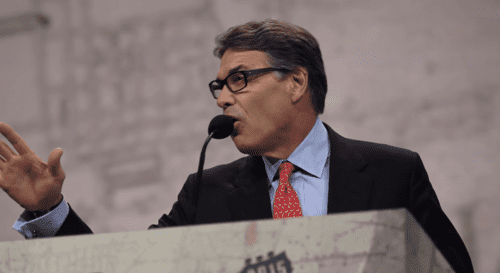 Indicted former Texas Gov. Rick Perry has officially launched his presidential bid this morning in a campaign ad called "Where I Come From," touting his blue collar appeal and "accomplishments" as the lone star state's longest serving governor. 
"It's going to be a show me, don't tell me election," Perry says in the ad. "Where voters will look past what you say to what you've done."
The New York Times adds some context to Perry's second White House bid:
His 2012 bid for president was filled with gaffes that became national punch lines. He famously uttered "oops" during a debate after he failed to recall the name of one of three federal agencies he would eliminate if elected president. Shortly before he dropped out of the race, he ended up in fifth place in the Iowa caucuses.
In the years since, Mr. Perry has worked at retooling and sharpening both his image and his political chops, making frequent trips to early voting states, meeting with influential policy experts, attending the World Economic Forum in 2014 in Switzerland and even making two cosmetic changes — donning hipster-style black-rimmed eyeglasses and trading his cowboy boots for black loafers.
Perry is planning a speech later today on his announcement. No word yet on whether Perry plans on bringing his Brokeback jacket on the campaign trail this time around.  
Watch the ad, AFTER THE JUMP…