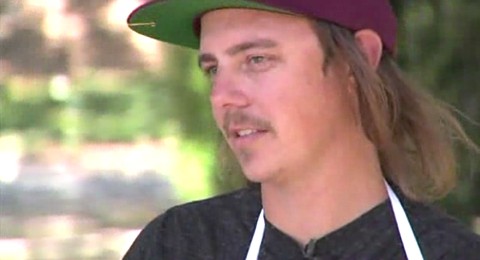 A Sacramento man turned himself in on Tuesday night for an alleged anti-gay assault on three musicians during which he used homophobic slurs. The reason he attacked them? They were wearing skinny jeans.
Timothy Brownell, 25, was wanted on hate crime charges after allegedly yelling a homophobic slur at the musicians Sunday and assaulting them with a knife because of their skinny jeans, Sacramento police said. He turned himself in about 9:18 p.m. Tuesday at Sacramento County's main jail.
Brownell was initially arrested after the attack on suspicion of assault with a deadly weapon and possessing a firearm but was released on bond. Police then issued an arrest warrant for him Monday when the attack was reclassified as a hate crime.
The victims were Alex Lyman (pictured) and Weston Richmond of the band Slaves. The third victim is  Blake Abbey of the band Musical Chairs.
Richmond posted about the attack on Instagram:
Watch a report from Sacramento's KTXL, below: