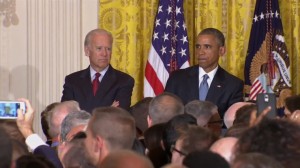 Jennicet Gutiérrez, an undocumented transgender woman who heckled President Obama at a LGBT Pride event yesterday, is speaking out about her decision to interrupt the White House reception and call on the president to release all LGBTQ immigrants from detention centers.
"The White House gets to make the decision whether it keeps us safe," explained Gutiérrez in a statement.  "There is no pride in how LGBTQ and transgender immigrants are treated in this country. If the President wants to celebrate with us, he should release the LGBTQ immigrants locked up in detention centers immediately."
The statement adds Gutiérrez "came to the US from Mexico, seeking safety and economic opportunity."
Gutiérrez has also penned a column over at the Washington Blade to further explain her decision  to interrupt President. Obama.
Earlier this week, a group of over 30 lawmakers signed a letter asking the Department of Homeland Security Secretary's Jeh Johnson to consider releasing LGBTQ detainees.