Amidst the din of "masc 4 masc only" demands resounding in gay culture these days, there's nothing more exhilarating than a loud and clear reminder that being yourself without apology takes the most balls. That's the lesson everyone would do well to learn from the 14-year-old boy at the center of The Absolute Brightness of Leonard Pelkey, a funny, heartrending and utterly inspiring solo show that opened Off Broadway last night at the Westside Theatre. Previously produced at Dixon Place, the piece is written and performed by James Lecesne, author of the Oscar-winning short film Trevor, and co-founder of the organization it inspired, The Trevor Project.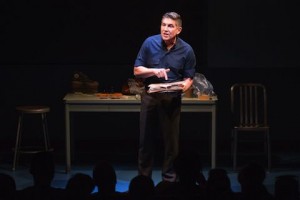 Though Leonard is not among the many characters Lecesne delightfully brings to life over the course of the play's 75 minutes, a portrait of the fearlessly flamboyant, unfiltered and unselfconscious young teenager emerges as others recount the profound impact he's had on their lives when they find out he's gone missing. The point many of them return to is that Leonard never seemed to worry what anybody thought, never tempered his behavior for fear of backlash, or hesitated for any reason to be exactly who he was.
Detective Chuck DeSantis narrates the story, leading the audience through his investigation of Leonard's disappearance. Set in a small town on the Jersey Shore, the play features a familiar cast of characters — hard-boiled detective, outspoken hairdresser, teenage mallrats, etc. — all given wonderfully distinctive characterizations by Lecesne. From Leonard's 16-year-old sister Phoebe and his pushy mother Ellen, to his effete drama teacher and a schoolyard bully, Lecesne seamlessly transitions from one character to the next with natural ease, using simple body language and amusingly spot-on vocalizations to vividly inhabit each one, without a single costume change.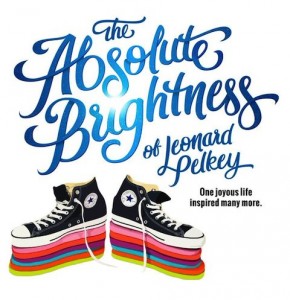 Directed by Tony Speciale with original music by Duncan Sheik, the production is refreshingly simple, with minimal set and props, only the clothes on Lecesne's back, and a handful of artfully designed projections by Matthew Sandager. The show's mystery setup draws the audience in from the outset, as does its good-natured humor, and warm depictions of salt-of-the-earth characters.
But, more captivating than unraveling what happened to Leonard is marveling at the deep impressions he's left on others. Absolute Brightness asks viewers to piece together the puzzle of an extraordinary boy living in ordinary settings, making them more colorful and enriching the lives of those around him simply by refusing to be anyone except himself. At the age when most of us put aside some of our carefree spirit for the self-consciousness of adolescence, Leonard is free of shame and beaming with light — an unknowing role model to everyone who hears his story.
Recent theatre features…
Looking for Love in a Straight-Girl World, 'Significant Other' Opens Off Broadway: REVIEW
'Fun Home' and 'Curious Incident' Mark Big Wins for Women and Brits: 2015 Tony Awards Roundup
Jim Parsons Opens in 'An Act of God' on Broadway: REVIEW
Alison Bechdel's Graphic Novel Comes to Broadway in New Musical 'Fun Home': REVIEW
Kelli O'Hara and Ken Watanabe Open In Lavish Broadway Revival of 'The King and I': REVIEW
Follow Naveen Kumar on Twitter: @Mr_NaveenKumar (photos: matthew murphy)