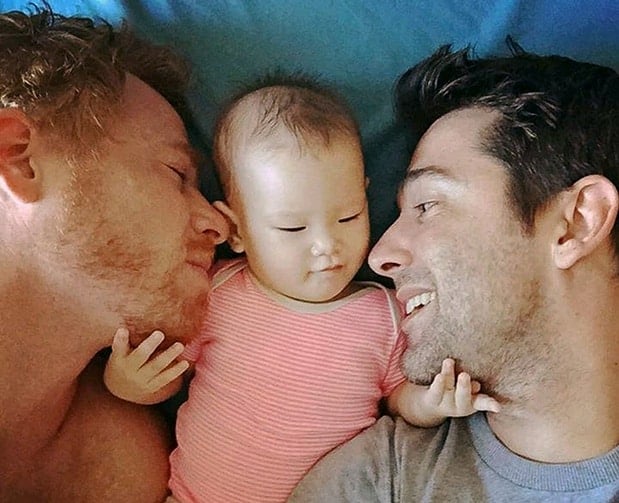 In what they describe as their "worst nightmare," a gay couple is trapped in a legal battle to keep their surrogate baby born in Thailand.
The surrogate mother handed over the baby after she was born in January but later refused to sign paperwork that would allow the infant to leave the country, saying she didn't realize the couple was gay.
Now, Gordon "Bud" Lake and his husband, Manuel, are living in a secret location in Bangkok to prevent the woman from taking back their daughter, Carmen, before their case goes to court.
The Guardian reports:
"I was flabbergasted, in a complete state of shock. It's your worst nightmare in a process like this. I didn't believe it," Lake, 41, told the Guardian. … 
They chose Thailand for its top rate medical facilities and established surrogacy industry for gay couples.
But while Carmen – biologically his and an anonymous egg donor's – was in the womb, the military overthrew the government. The coup was shortly followed by a series of high-profile surrogacy scandals that led to a ban on the industry.
Lake is from Florida, and Manuel is from Spain. They also have a 23-month-old son, Alvaro, who was a surrogate baby born in India.
More from The Washington Blade:
Lake provided the Blade with a picture he said the surrogate posted to her Facebook page in which she is holding a gun. Four other pictures show guns and bullets. Lake said the surrogate and her representative earlier this month requested a meeting with him.
He told the Blade they asked to "bring her daughter, as they put it."
"We refused because we don't trust them at all," said Lake. "We do think that it is possible if they had the opportunity they would do something to try to take Carmen from us."
The couple has already spent more than $35,000 for the surrogate mother's medical expenses, Lake told The Guardian. Now, they're facing an expensive legal fight. They've launched a Fundly page, using the hashtag #BringCarmenHome, that's raised $24,630 of its $30,000 goal. From the Fundly page:
We had a beautiful baby girl through surrogacy in Thailand and now we are trapped here because the surrogate won't collaborate. For now we can cover all personal expenses, but we need help with the legal costs.
Watch a video featuring Carmen and her older brother below.