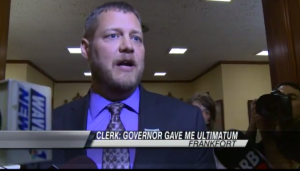 During a private meeting with Casey County Clerk Casey Davis yesterday, Kentucky Governor Steve Beshear told the renegade clerk to comply with the Supreme Court's ruling on marriage or resign. Davis, however, won't do either.
As we reported earlier this week, Davis is one of two Kentucky county clerks who've stopped issuing marriage licenses altogether to avoid issuing them to same-sex couples. The other, Rowan County Clerk Kim Davis, is facing a lawsuit from the American Civil Liberties Union.
Beshear also issued a press release after the meeting saying: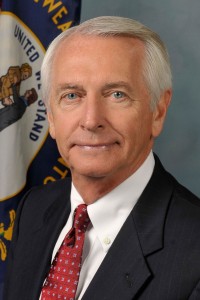 "This morning, I advised Mr. Davis that I respect his right to his own personal beliefs regarding same-sex marriages. However, when he was elected, he took a constitutional oath to uphold the United States Constitution. According to the United States Supreme Court, the Constitution now requires that governmental officials in Kentucky and elsewhere must recognize same-sex marriages as valid and allow them to take place. One of Mr. Davis' duties as county court clerk is to issue marriage licenses, and the Supreme Court now says that the United States Constitution requires those marriage licenses to be issued regardless of gender. Mr. Davis' own county attorney has advised him that his oath requires him to do so."
Lexington Herald-Leader adds:
Davis said that he was disappointed with the governor and that he would continue to refuse to issue marriage licenses and would not resign.
He acknowledged that he is concerned about being sued or being charged with official misconduct but that he has learned "to lean on the Lord."
Before entering the meeting with Beshear, Davis, with his wife of 23 years, Christy Davis, at his side, said he was willing to go to jail for his religious beliefs.
"If that's what it takes to express freedom of religion, I'm willing to do this," the clerk said.
Watch Davis defend his actions to a crowd of supporters in the video below:
https://www.youtube.com/watch?t=0&v=pUIJXh7EO-4