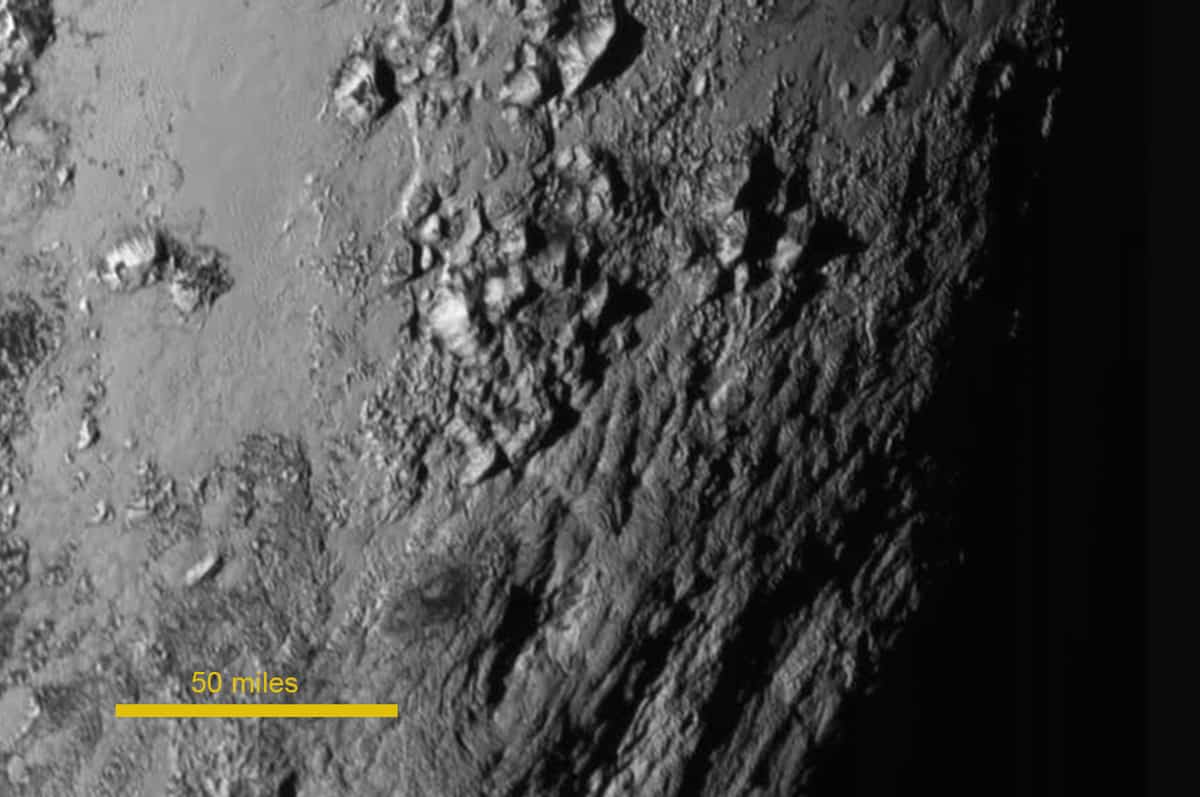 NASA has published several new images of Pluto and its moons from the New Horizons space probe that completed a flyby of the outermost planet's system on Tuesday.
The first image (above) was taken 1.5 hours before New Horizons closest approach to Pluto, from 478,000 miles above the surface, and features mountains reaching 11,000 feet high that are "probably composed of Pluto's water-ice bedrock."
NASA writes of the image:
The mountains likely formed no more than 100 million years ago — mere youngsters relative to the 4.56-billion-year age of the solar system — and may still be in the process of building, says Jeff Moore of New Horizons' Geology, Geophysics and Imaging Team (GGI). That suggests the close-up region, which covers less than one percent of Pluto's surface, may still be geologically active today.
Moore and his colleagues base the youthful age estimate on the lack of craters in this scene. Like the rest of Pluto, this region would presumably have been pummeled by space debris for billions of years and would have once been heavily cratered — unless recent activity had given the region a facelift, erasing those pockmarks.
"This is one of the youngest surfaces we've ever seen in the solar system," says Moore.
Another image is Pluto's largest moon, Charon.
It was shot on July 13, 2015 from a distance of 289,000 miles.
NASA writes:
A swath of cliffs and troughs stretches about 600 miles (1,000 kilometers) from left to right, suggesting widespread fracturing of Charon's crust, likely a result of internal processes. At upper right, along the moon's curving edge, is a canyon estimated to be 4 to 6 miles (7 to 9 kilometers) deep.
Mission scientists are surprised by the apparent lack of craters on Charon. South of the moon's equator, at the bottom of this image, terrain is lit by the slanting rays of the sun, creating shadows that make it easier to distinguish topography. Even here, however, relatively few craters are visible, indicating a relatively young surface that has been reshaped by geologic activity.
In Charon's north polar region, a dark marking prominent in New Horizons' approach images is now seen to have a diffuse boundary, suggesting it is a thin deposit of dark material. Underlying it is a distinct, sharply bounded, angular feature; higher resolution images still to come are expected to shed more light on this enigmatic region.
Finally, an image of Pluto's moon Hydra was released, shot from 400,000 miles away. The moon is of an irregular shape, and according to scientists, "probably covered with water ice, the most abundant ice in the universe."
"New Horizons has finally nailed the basic physical properties of Hydra," says Hal Weaver, New Horizons Project Scientist and LORRI science operations lead. "We're going to see Hydra even better in the images yet to come."