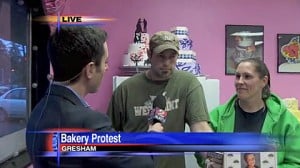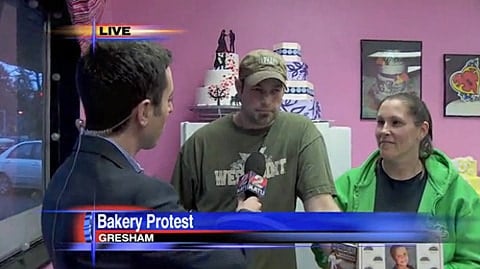 Aaron and Melissa Klein, the Gresham, Oregon bakery owners at the center of the gay cake baking controversy, like to talk about the "financial ruin" they soon face after being ordered to pay $135,000 in damages to a lesbian couple they refused to bake a wedding cake to in 2013. But what the Kleins are less inclined to talk about is the fact that the two have raised more than twice that sum from online crowdfunding sources as a result of their anti-gay views.
Politico reports:
Sweet Cakes by Melissa, a bakery owned by Aaron and Melissa Klein, originally began a crowdfunding campaign on the website GoFundMe after the businesses was shuttered in 2013, but was kicked off the site in April due to complaints from same-sex marriage supporters. In the Kleins' time on GoFundMe they raised $109,000, which they were permitted to keep after the site changed its policy to ban their campaign.
The Kleins then began another campaign on the website Continue to Give on May 5, which bills itself as "a faith based giving platform" and asked for donations to support their family in the wake of their bakery's closing and subsequent legal battles. The founder of Continue to Give, Jesse Wellhoefer, told the Washington Times that the Klein family has already broken the three-year-old site's record for highest total raised and is continuing to raise funds.
As of this writing the Continue to Give campaign has raised over $370,000 for the Kleins.