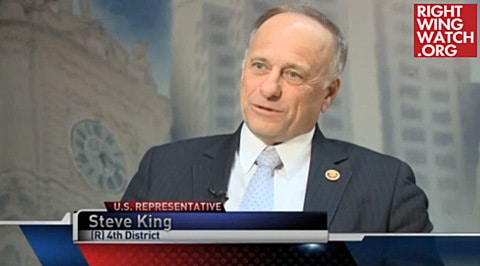 Rep. Steve King (R-IA), the resident anti-gay troll in Congress, has just introduced a House resolution denouncing the Supreme Court's 5-4 decision in Obergefell v. Hodges that extended marriage rights to same-sex couples nationwide.
"The traditional definition of marriage is a union between one man and one woman," said King in a statement. "In a blatant act of judicial activism, the Supreme Court perverted the word 'marriage' to create an unconstitutional right to same-sex marriage. Five unelected judges imposed their personal will on the States and the American people by overturning at least thirty states whose constitutions define marriage as a union between one man and one woman."
The resolution states that the House supports the rights of states to ignore the ruling and that "individuals, businesses, churches, religious groups, and other faith-based organizations are encouraged, empowered, and protected to exercise their faith without fear of legal or government interference."
King's resolution comes just a few weeks after Rep. Raul Labrador (R-ID) and Sen. Mike Lee (R-UT) introduced a federal anti-LGBT "license to discriminate" bill.
The Hill notes that House GOP leaders "have not indicated any desire to move legislation related to same-sex marriage."
Read King's full resolution below: