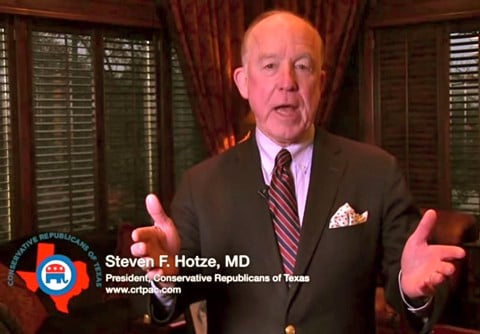 In an email to Texas Attorney General Ken Paxton following the U.S. Supreme Court's ruling in favor of same-sex marriage, Houston anti-LGBT activist Dr. Steve Hotze said the justices are 'lousy bastards" who "hate God and want to let the sodomites queer our country."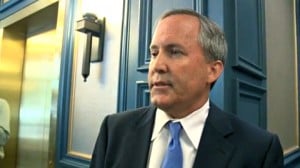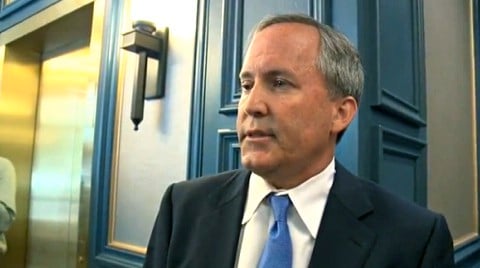 Hotze was demanding that Paxton (right) do something to resist the ruling. However, it's unclear if and how Paxton responded, because the AG declined to release all of his related emails in response to an open records request.
The Dallas Morning News reports that both Hotze and energy executive Tim Dunn sent emails to Paxton urging him to fight the high court's decision in Obergefell v. Hodges: 
"Greetings in the name of Christ our King!" Hotze wrote Paxton about two hours after the court ruled on June 26.
"Do what the Louisiana AG has done," Hotze said in an email, urging Paxton to emulate that state's Republican attorney general who said Louisiana didn't have to comply because there was no specific line in the court ruling saying so.
"The illegitimate SCOTUS ruling does not name Texas, so fight those lousy bastards," said Hotze, president of Conservative Republicans of Texas, a group influential in Harris County GOP primaries. "They hate God and want to let the Sodomites queer our country."
As it turns out, Paxton did relatively little to fight the ruling. He issued a nonbonding opinion suggesting that county clerks could refuse to issue marriage licenses to same-sex couples, but added that they'd likely be sued. Paxton's office also conceded two related lawsuits.
Needless to say, that probably wasn't good enough for Hotze, who has since helped launch a new anti-LGBT coaltion in response to the ruling and is sponsoring an eight-city, anti-gay hate tour across the state this summer.
Meanwhile, a grand jury reportedly was meeting this week to consider whether to indict Paxton on first-degree felony charges of securities fraud, which would carry a maximum penalty of life in prison. Watch a report from WFAA-TV below.