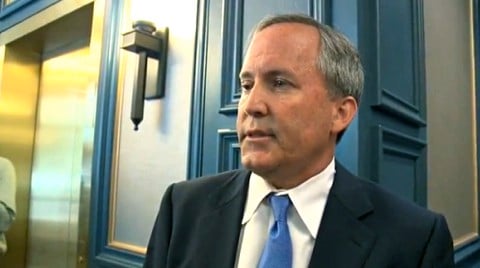 Anti-gay Texas Attorney General Ken Paxton may be encouraging county clerks and judges to defy the U.S. Supreme Court's ruling in favor of same-sex marriage.
However, in what would appear to be a blatant display of hypocrisy, Paxton is unwilling to resist the ruling himself in court.
Paxton's office has dropped an appeal of an Austin judge's February decision declaring the state's same-sex marriage ban unconstitutional. The ruling, which came in an estate case, prompted another judge to order the county clerk to issue a marriage license to a lesbian couple.
The Austin Statesman reports:
Once the appeal to the Texas Supreme Court is dropped, Travis County Probate Judge Guy Herman will be able to continue a case asking him to determine if an eight-year relationship between two Austin women should be recognized as a common-law marriage.
The Travis County cases are among the final loose ends remaining in the legal battle over gay marriage in Texas.
Some Republicans aren't ready to give up the fight, including state Rep. Cecil Bell, who on Monday unveiled an organization designed to pressure elected officials to reject the U.S. Supreme Court's ruling on gay marriage.
"People are deeply concerned about the erosion of moral values and the abandonment of our Constitution," said Bell, R-Magnolia. "The sleeping giant is awake and filled with the pent-up frustration (toward) state and elected officials who lack the will to assert our state sovereignty."
Last week, we reported that Paxton issued an opinion encouraging county clerks to defy the SCOTUS marriage ruling, which led to an ethics complaint against him with the State Bar of Texas.
Paxton, of course, is also facing possible first-degree felony charges for securities fraud. So perhaps he's decided he's already in enough legal trouble.
Watch a report on the case in which Paxton's office dropped the appeal below.