Apparently still unable to cope with the fact that same-sex marriage is legal, one Texas state lawmaker has chosen instead to simply live in a fantasy world.
GOP Rep. Dan Flynn (shown above with his wife, via his website) is claiming that same-sex marriage licenses issued in Texas are void, and that benefits extended to the spouses of gay state employees are invalid, despite the U.S. Supreme Court's ruling in Obergefell v. Hodges.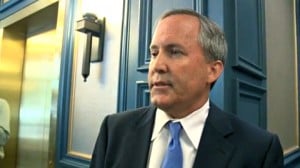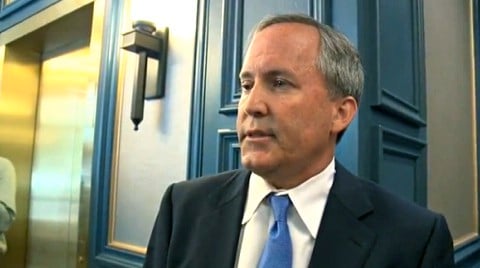 Flynn makes the absurd arguments in a request for a nonbonding opinion from Attorney General Ken Paxton (right) about what current Texas law says pertaining to marriage. Flynn also asks whether action by the Legislature is required to implement same-sex marriage in Texas; whether same-sex marriage licenses issued since the high court's ruling are valid; whether state agencies have the authority to issue benefits to same-sex couples; and what action the federal government could take to force the state to implement same-sex marriage.
But Flynn's request for an opinion is more like an opinion itself, in which he concludes that same-sex marriage is still illegal in Texas and then asks Paxton to agree with him. This is despite the fact that pursuant to the high court's ruling, a federal district judge enjoined Texas from enforcing its marriage bans, in DeLeon v. Perry.
"Even after the DeLeon Final Judgment enjoining enforcement of 'Texas laws prohibiting same-sex marriage,' the remaining Texas statutes do not provide for marriage other than between one man and one woman," Flynn concludes. "Pursuant to the Texas Constitution, legislative powers are granted only to the Texas Legislature; therefore, only the legislature has authority to revise state law in conformance with the Obergefell and DeLeon decisions. Absent action by the Texas Legislature, execute branch agencies, such as DSHS, have not been delegated authority to promulgate policies or procedures to implement same-sex marriage in Texas or other benefits. Therefore, any marriage license issued in contradiction with Texas state law or other policy unilaterally awarding benefits to same-sex couples are invalid."
The attorney general's office typically responds to requests for opinions within 180 days, although he's not required to issue one at all. Paxton, a staunch opponent of same-sex marriage, has continued to spew anti-gay rhetoric in the wake of the high court's ruling. However, he has declined to put up any fight in court, conceding two lawsuits related to the issue, including DeLeon.
The remarkable thing about Flynn's 10-page request is that he wasted so much time working on it. Just think of all the things he could have been doing to actually serve his constituents.
Flynn is apparently unfamiliar with the supremacy clause of the U.S. Constitution. He's also apparently unaware that any government official who resists the high court's ruling can be held personally liable. Just ask Katie Lang, the Hood County clerk who initially declined to issue same-sex marriage licenses, but immediately relented when a lawsuit was filed against her. 
According to Flynn's website, he's a banker and a member of the Church of the Nazarene.
Read Flynn's full request below.
h/t: Dallas Morning News.